Bank anywhere, anytime with digital banking
Digital Banking Made Easy
Simplify your finances with digital banking. Open an account today  and get access to a powerful suite of online banking tools. Mobile banking brings those tools to your mobile device, so you can manage your money on the go.  
Manage Your Money With Online Banking
Banking with R.I.A. means having access to powerful online banking tools that make managing your money safe, easy and convenient. 
Identity Theft Protection
Contactless Payments
Direct Deposit
Payroll Deduction
ATM Access
Digital Banking on Your Time
Take your finances with you, wherever you go. With digital banking tools, managing your money is always at your fingertips.
R.I.A.'s mobile banking⁹ app gives you all the power of online banking on the go. Now you can access and manage your money from just about anywhere.
Mobile banking app (iOS / Android)
Mobile check deposit
Mobile wallet with advanced card controls
 Bank by phone 24/7
Secure Access via Touch ID and Eyeprint ID
 Apple Pay, Google Pay, Samsung Pay
Powerful Digital Banking Tools
Stay on top of your finances with powerful digital banking tools designed to keep informed. Monitor your credit, manage your budget, and pay bills online. Streamline your finances.
Free Credit Monitoring
Check your credit score daily with no impact on your credit and see how financial decisions will affect your score.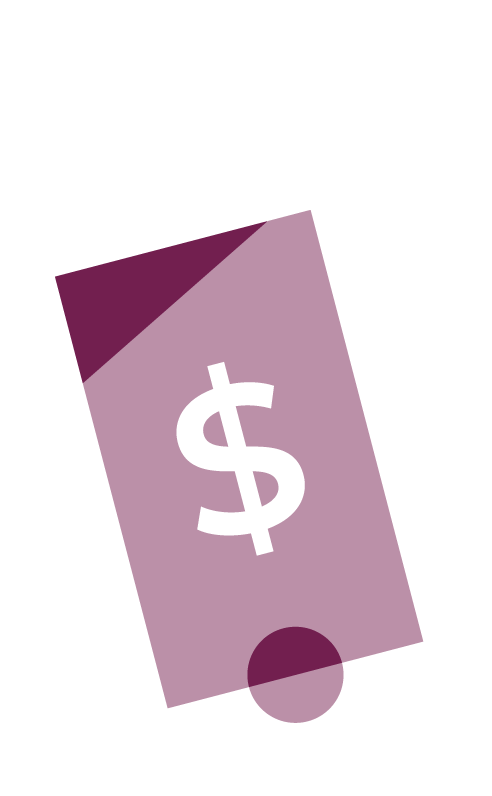 EZ Bill Pay
Use our EZ Bill Pay solution to make one time and recurring payments with ease. Pay just about anyone with a few clicks.
Budgeting Tool
Learn where and how you spend, with all internal and external accounts and transactions in one location within online banking. 

Send Money with Zelle®
Send, receive and request money electronically with people you know and trust. Available through Online and Mobile Banking.  
Understand your credit score, factors that impact it, and what you can do to strengthen it, all within online banking and mobile banking. Access your score wherever you are.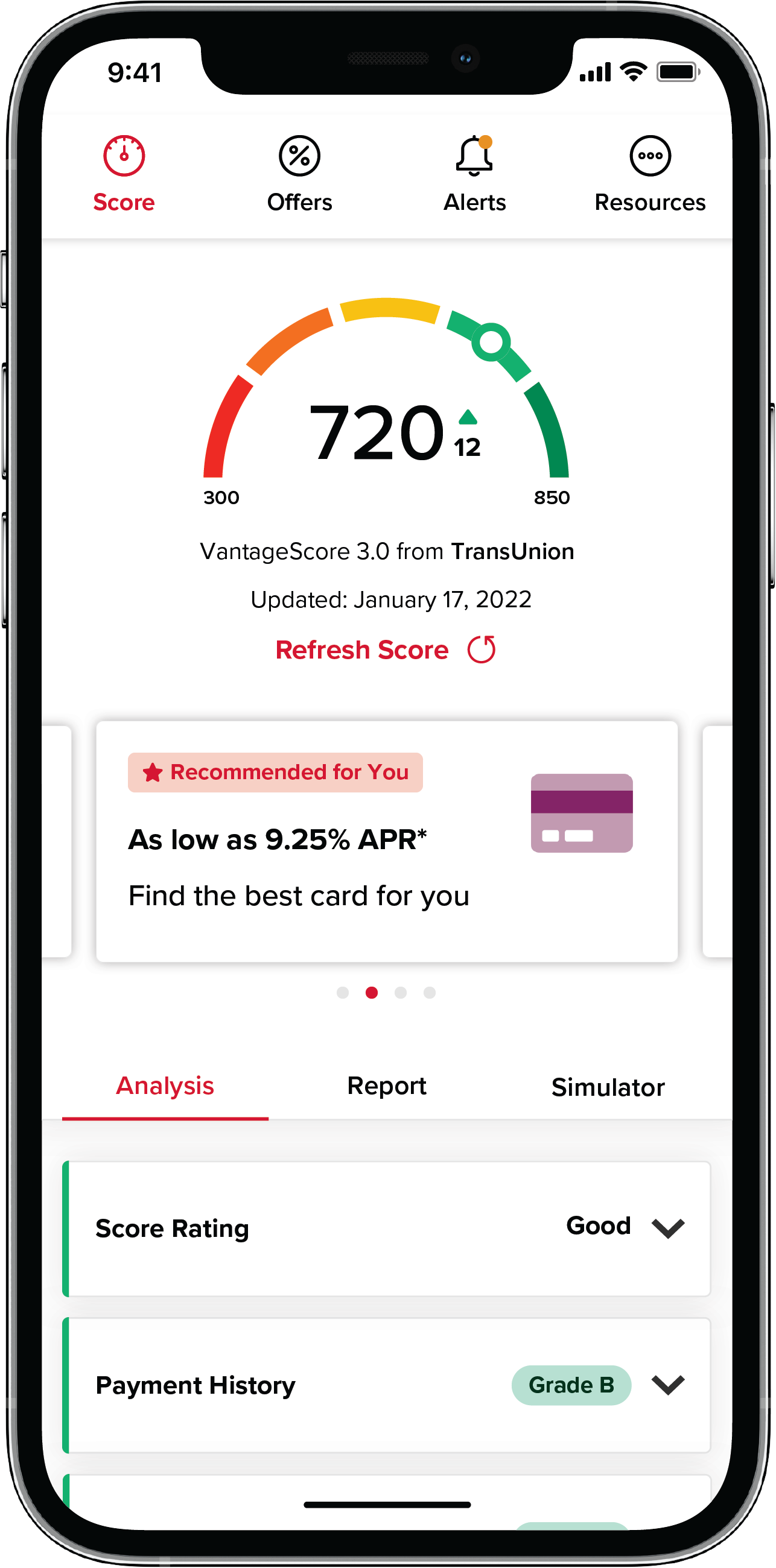 Get convenient access to your daily score updates, credit alerts, monitoring, and personalized offers that could save you money. Understand your overall score rating and view recommended actions to improve your score. View your payment history, credit usage, account mix, credit age, and inquiries, and how each category affects your score.  
View Your Detailed Credit Report
No more guessing how your credit is doing. Navigate through a detailed credit report to understand exactly what is on your report. You can even download your report to view it offline. Included in your report are open and closed accounts, collections, any inquiries you've made to your credit, public records, and your personal details.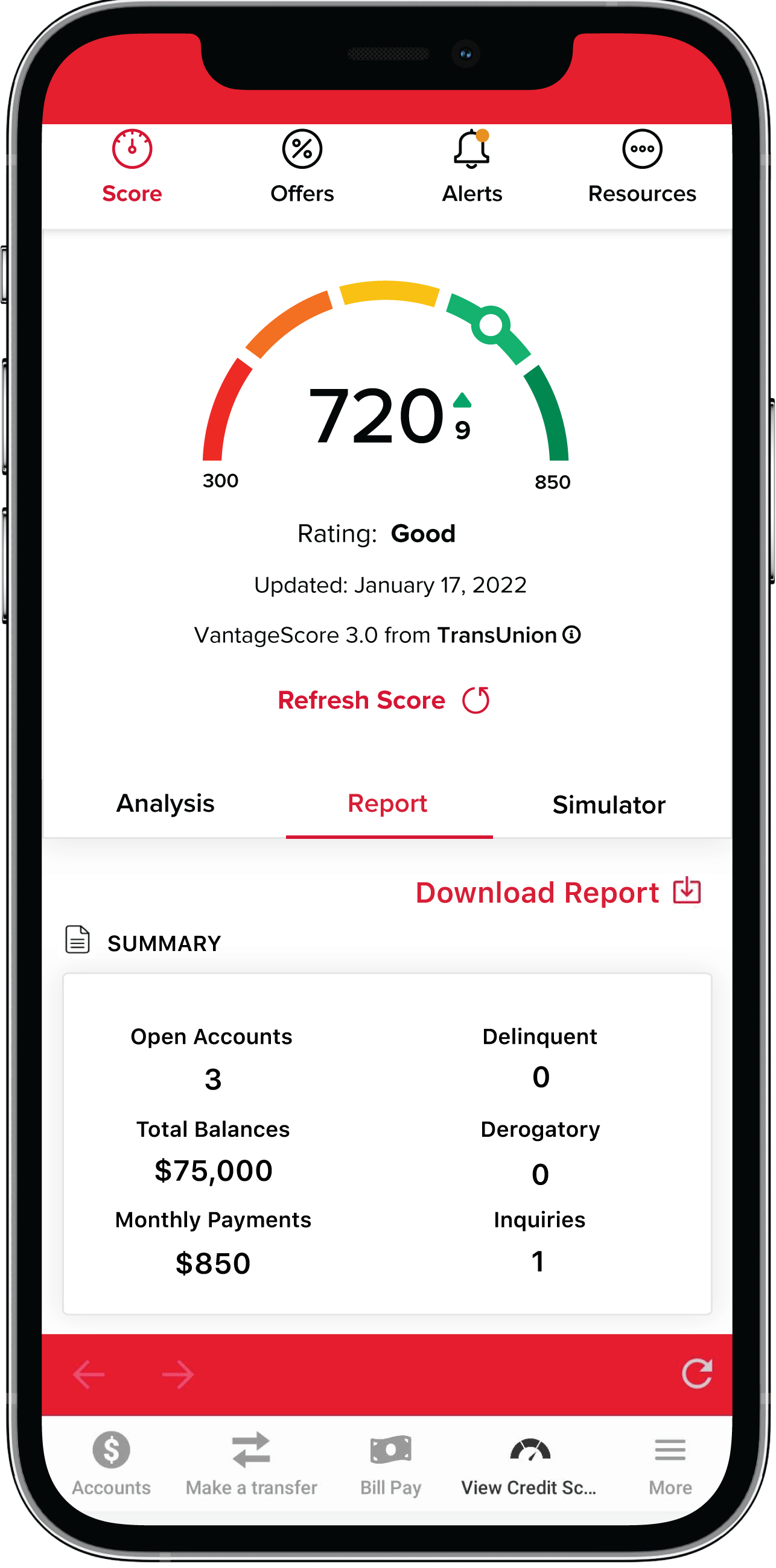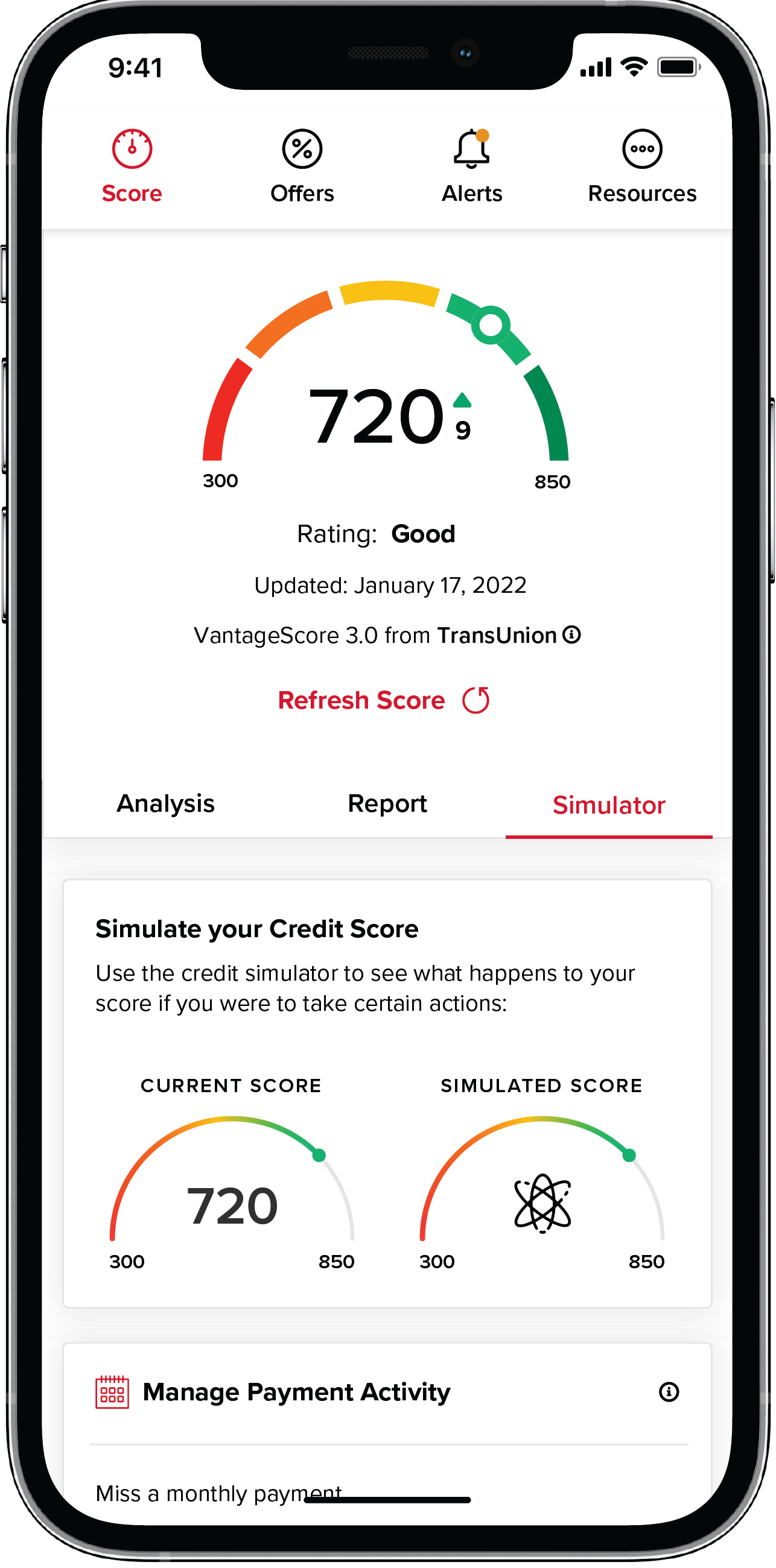 Simulate Your Credit Score
Use the credit score simulator to see what could happen to your vantage score if you were to take certain actions. Compare your current score to a simulated score based on actions you could take. For example, you could see how your credit would be affected if you apply for a new credit card, pay down balances on credit cards, or even miss a monthly payment. 
Make bill payments easier with EZ Bill Pay. Completely free to use, pay just about anyone by logging in to online banking and mobile banking. Set up one time and recurring payments and let us take care of the rest for you.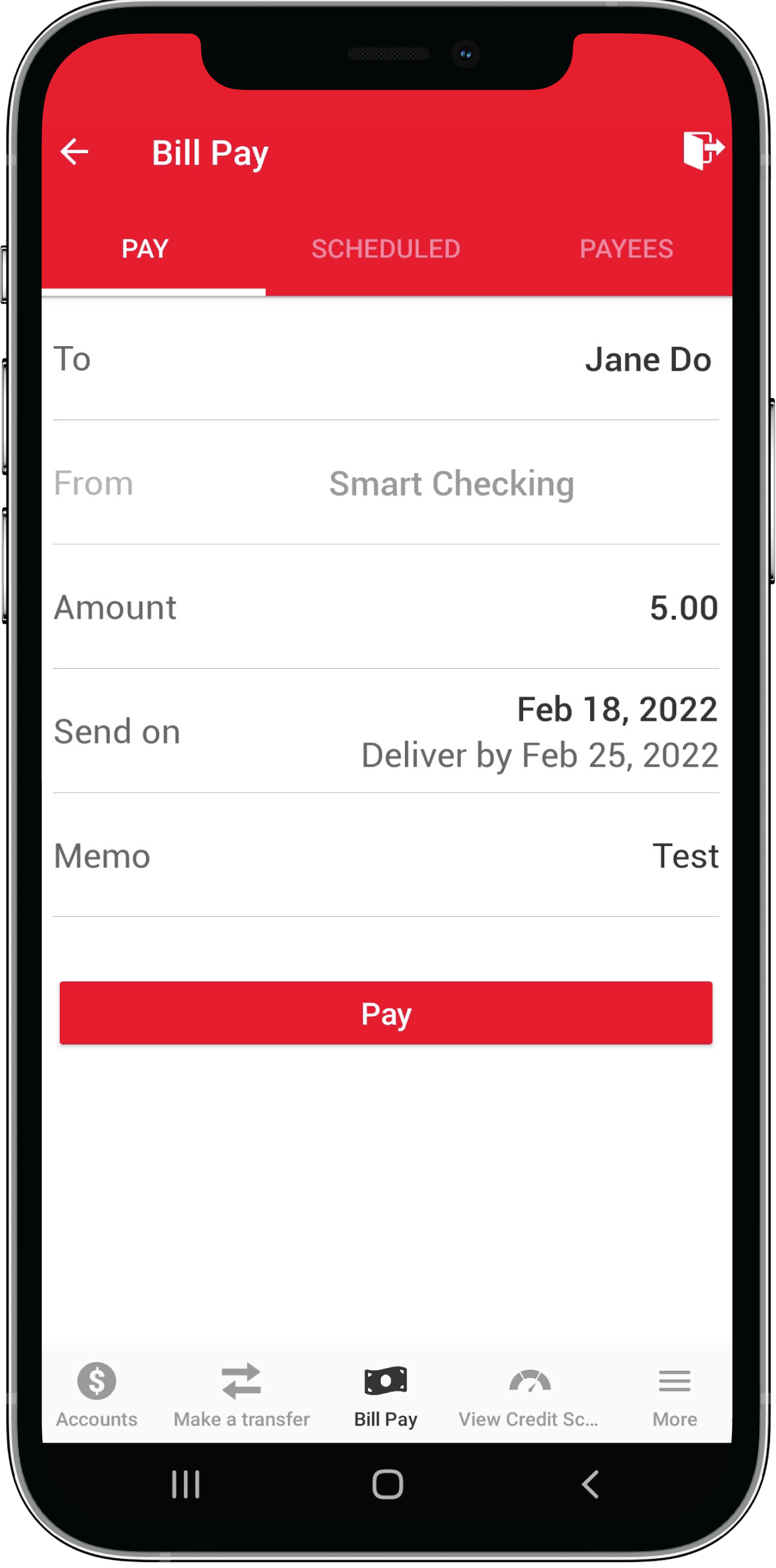 Pay just about anyone or any bill – all within Online and Mobile Banking. Just tell us the day you want your payment sent and we take care of the rest. You can even view an electronic copy of your paper bill, an eBill, anytime. eBills are a secure and convenient way to keep all of your bills in one place. You will be notified when an eBill arrives and when it is due so you never have a late payment.
Make three payments in about 60 seconds. Set reminders and alerts, schedule automatic and recurring payments and send an expedited payment for a fee. Choose from common payees at the bottom of the page, or add a new payee to your list. Fill out the form, click the add payee button and you are ready to make a payment. Pick who gets paid, when and how much – then just click pay. Use our calendar widget when scheduling payments to see when a payment can be delivered. Available dates will be displayed in blue. Unavailable dates that would not allow us to deliver the payment in time are grayed out and not selectable.
Simplify your finances with all accounts and transactions in one location within online banking and mobile banking. View trends, create budgets, and set goals to complete.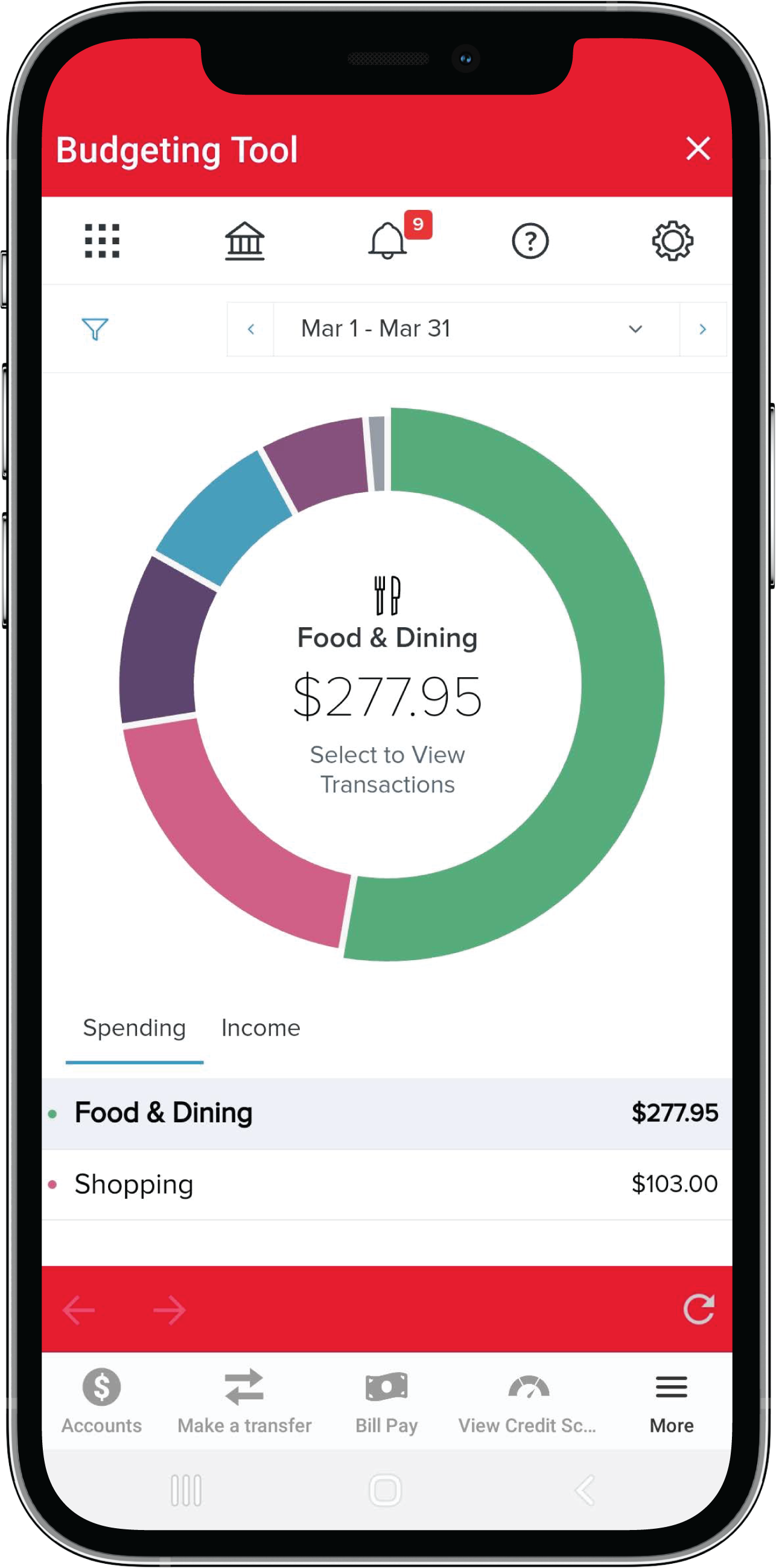 See All Accounts in One Location  
Make understanding your finances easy by viewing all accounts, even external accounts, and transactions within one platform. View your checking, savings, mortgage and auto loans all together. Dive even deeper to see detailed transactions and into what category they fall. Use this knowledge to view how much you spend in each category, and how that compares to other expenses.  
Learn How and Where You Spend
 Set budgets and see how you're trending over time. Determine where you can cut back, and where you're excelling. See just how many times you ate out last month, or how your utility bills are trending. At a glance, see how much of your budget has been spent, or how your spending compares to last year. View your debt and the schedule of payments. Organize your debt in the order you want to pay it off, and see how an extra payment will affect your payoff.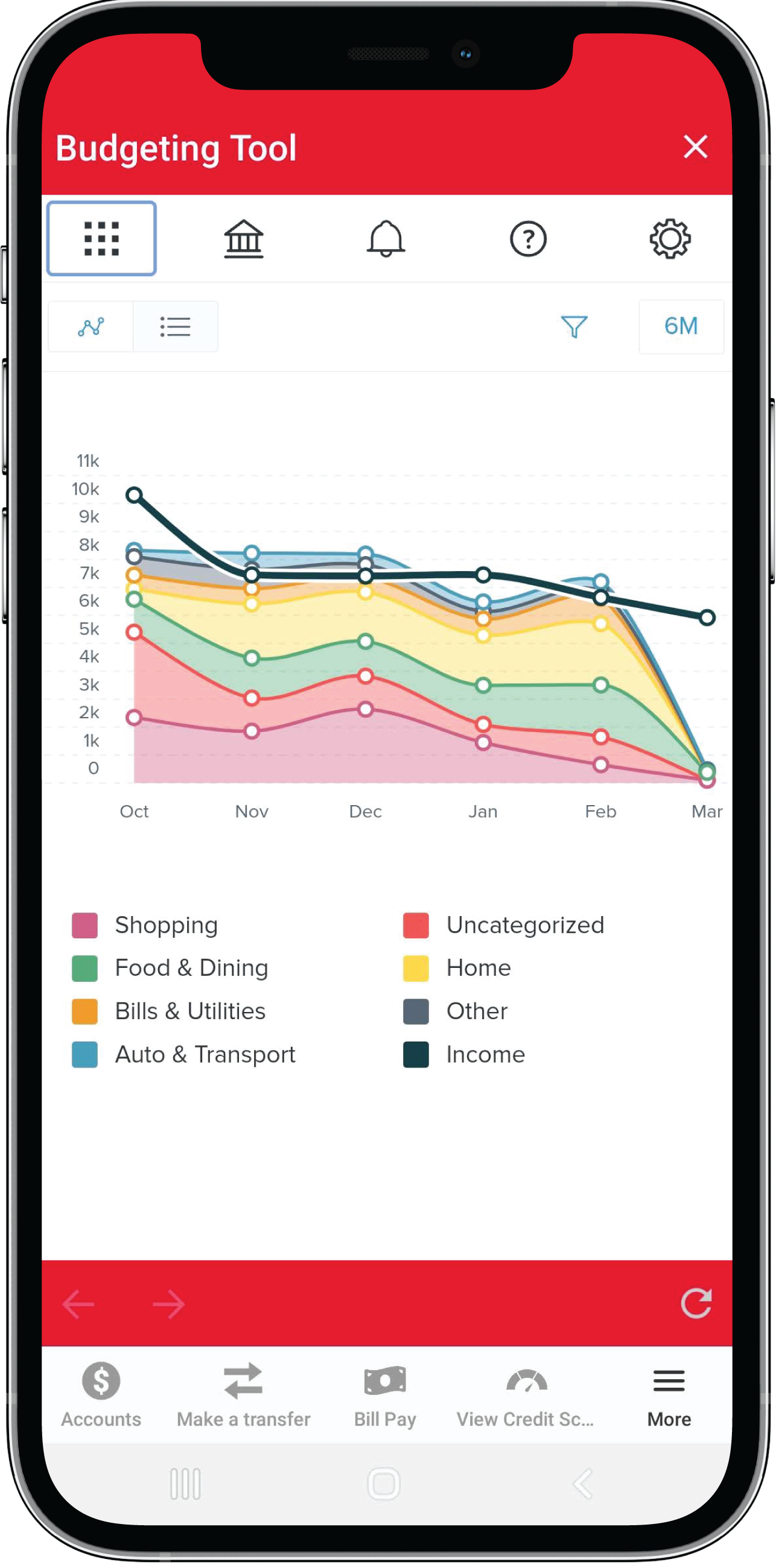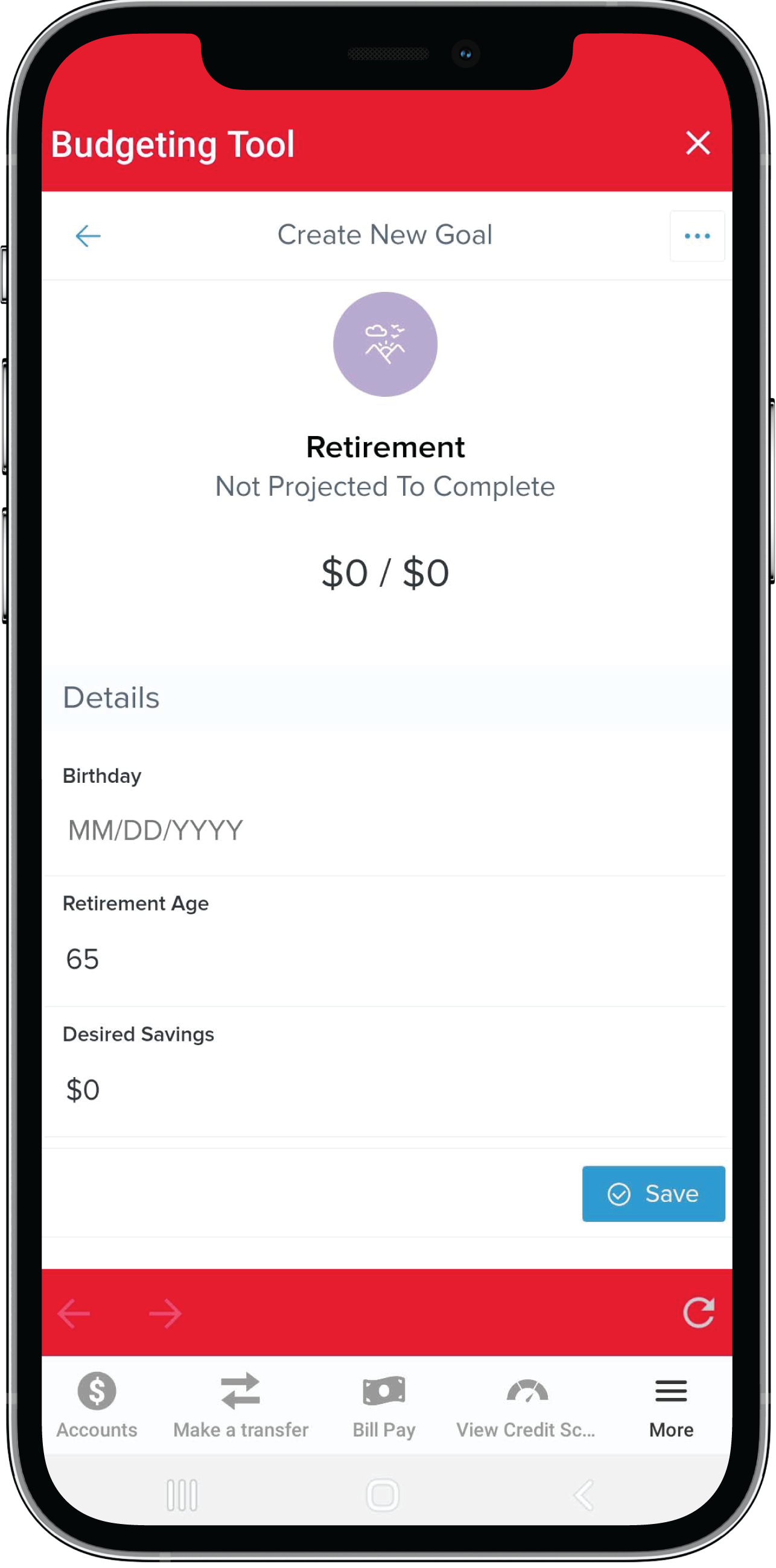 Set Goals and Be Financially Savvy
Track your net worth and how your accounts have changed. Compare your assets and liabilities to become financially aware. Set goals and work toward completing them. Save for a new house, pay off your auto loan, or put money away for retirement, and watch your progress as you go. Make sure you always have enough to cover your expenses by tracking your cash flow. 
Sending money to people you know is fast, safe and easy. With Zelle®, you can send and receive money, request payment, and split the cost of a bill, all within minutes. Just log in to your online or mobile banking account to get started.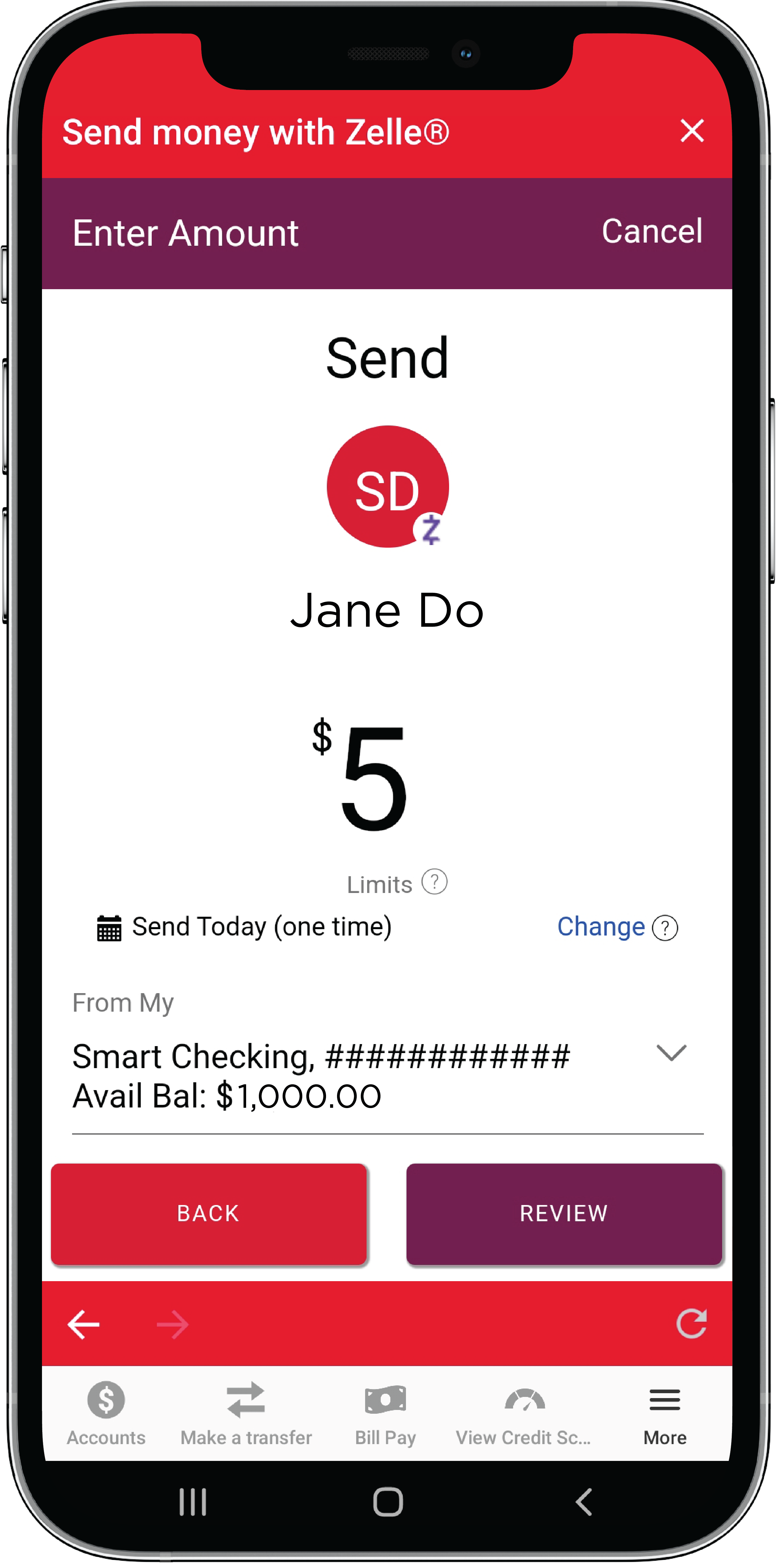 Conveniently Send and Receive Money
Need to pay someone back, but you don't carry cash? Forgot a family member's birthday? With Zelle®, you can safely send and receive money using only an email address or U.S. mobile phone number. The process is fast, too. The transaction will post to your bank account in minutes. Log in to online or mobile banking and send money straight from your account.  
Request Payment Electronically
When someone owes you money, you can gently remind them by requesting payment through Zelle®. Is it time for your roommate to send you rent money? Send them a payment request through your online or mobile banking and avoid the awkward conversation.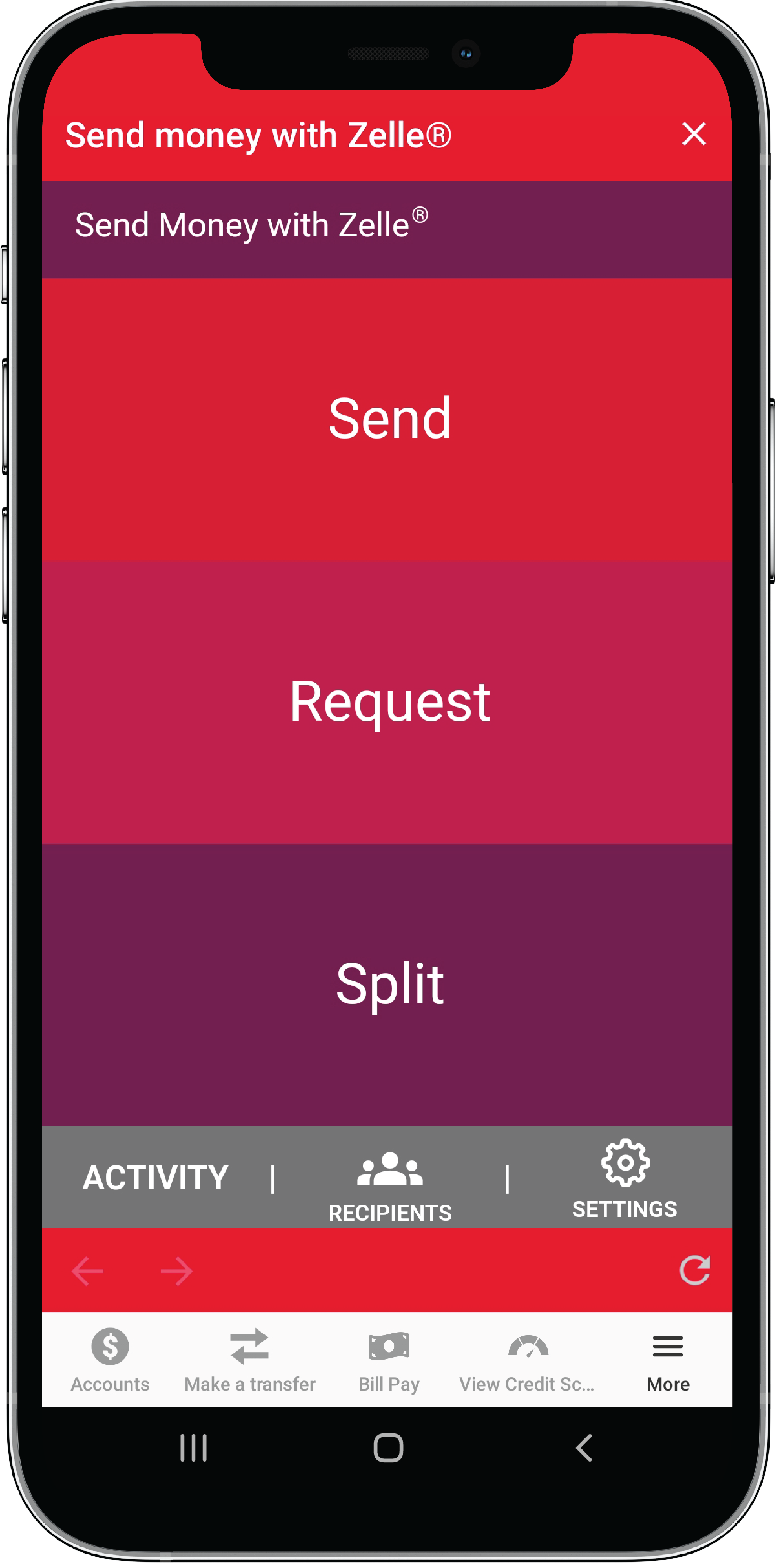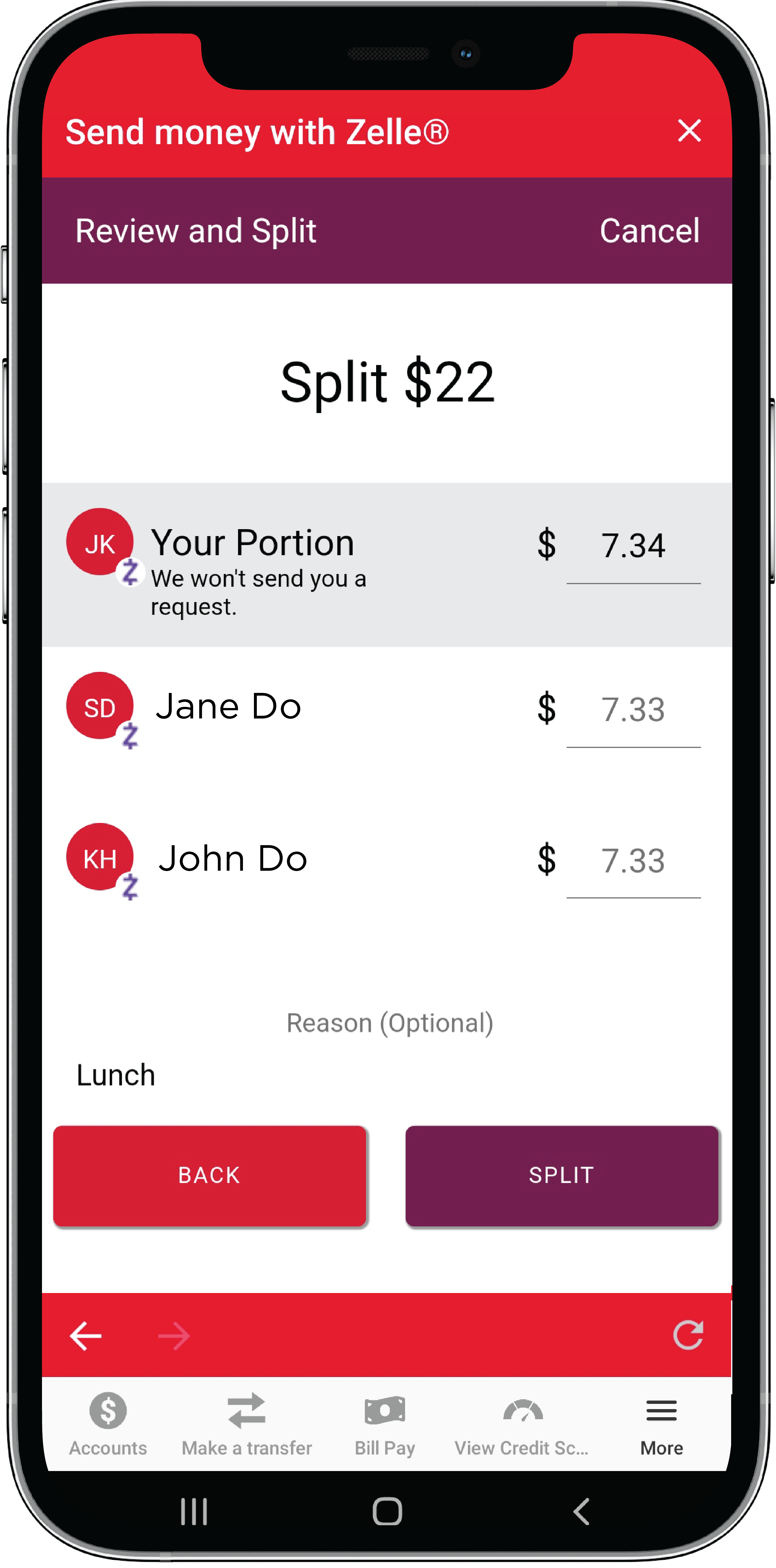 By using Zelle®, you can split a bill quickly and safely. Share a meal and drinks with friends and easily split the payment. Simply log in to online or mobile banking and use Zelle® to split the total cost between you and your friends. The app does the work for you and the funds appear in your account within minutes. 
You have questions. We have answers. See below for a list of our most frequently asked digital banking questions.
How do I download your mobile banking app?
To download our mobile banking app, search "RIAFCU" in the Google Play Store or the App Store. Download the app to start banking on the go!
Disclaimer
9. Digital Banking Features
(Mobile Banking) Message and data rates may apply; consult your carrier for further details. Not all mobile devices are supported.
(Mobile Pay)

Apple, the Apple logo, iCloud and Apple Pay are trademarks of Apple Inc.
Google Pay is a trademark of Google LLC. Android, Google Pay and the Google Pay logo are trademarks of Google LLC.
Samsung Pay is a registered trademark of Samsung Electronics Co., Ltd.
19. Zelle
Mobile network carrier fees may apply.

Must have a bank account in the U.S. to use Zelle®.

Transactions typically occur in minutes when the recipient's email address or U.S. mobile number is already enrolled with Zelle®.

In order to send payment requests or split payment requests to a U.S. mobile number, the mobile number must already be enrolled with Zelle®.

Copyright © 2022 R.I.A. Federal Credit Union. All rights reserved. Terms and conditions apply. Zelle and the Zelle related marks are wholly owned by Early Warning Services, LLC and are used herein under license.