APPLY FOR A SCHOLARSHIP TODAY
If you thought R.I.A. Federal Credit Union could only help you pursue a college education by offering student loans, think again! R.I.A. FCU will be awarding five $1,000 scholarships for the 2023-2024 school year*. 
These scholarships will be awarded to students who demonstrate academic excellence, exhibit outstanding contributions to their school and community, and are current credit union members. Current high school seniors and students continuing their higher education are eligible to apply.
Applications may be found online and must be post marked no later than March 31st, 2023.
Tax season is in full swing! Make sure to double check your routing number, account number and account type when filing to ensure your refund processes correctly. R.I.A. FCU's routing number is 271188337. Please check your statement for your full account number. It will be longer than your 6-digit member number – do not use your member number. Only checking/share draft and savings/regular share accounts should be used for tax return direct deposits.
In accordance with NCUA Federal Credit Union Bylaws, nominations for the election of the Board of Directors is now open. There are three vacancies for the Board of Directors in 2023, each extending for a three-year term. The Nominating Committee presents the following incumbents, who have agreed to accept the office if re-elected.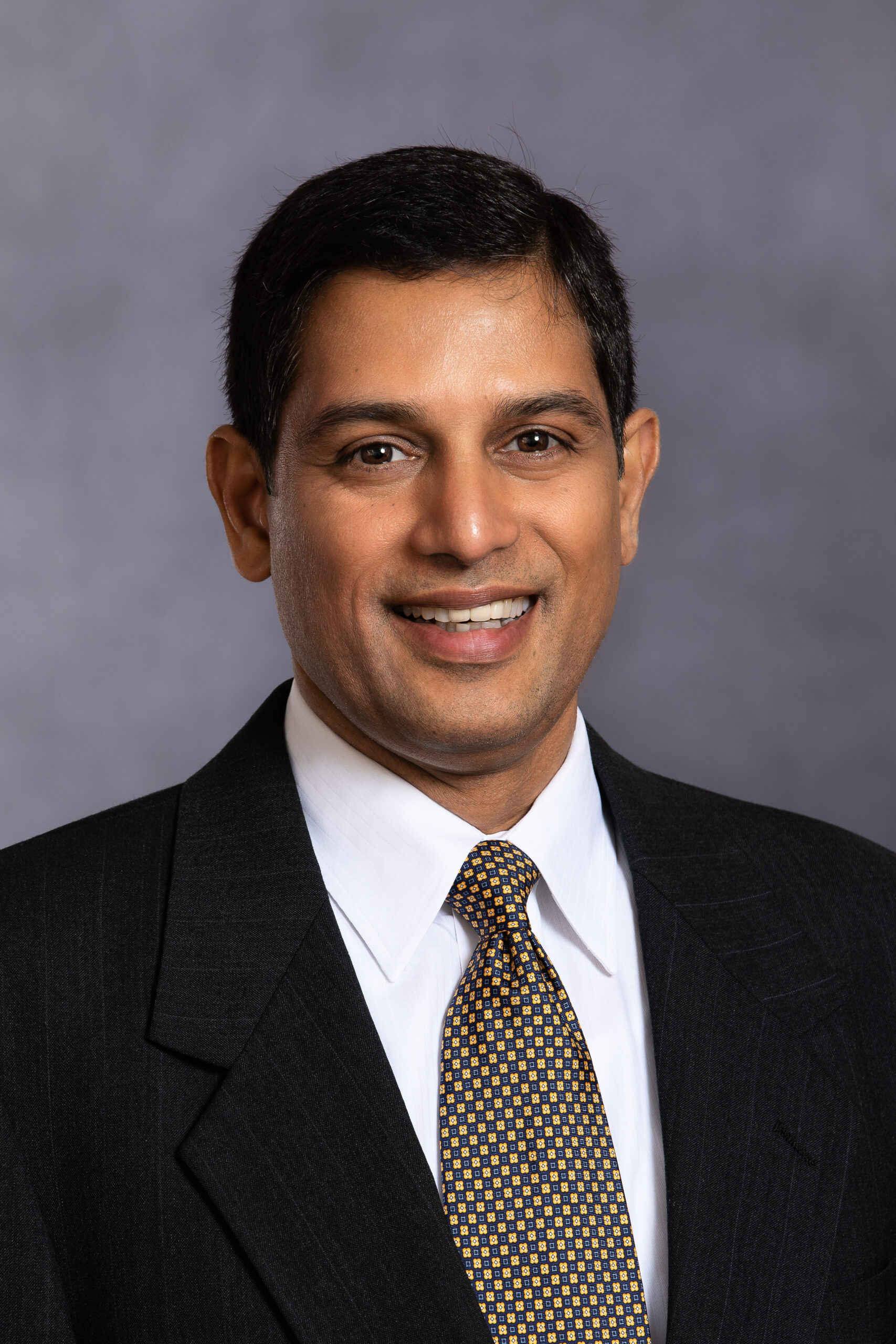 Arun Pillutla served as a member of the Supervisory Committee, and currently serves as the Chair of Funds Management Committee and is the Vice Chairman of the Board of Directors and acting Treasurer. He has been a member of R.I.A. FCU since 1999. As a volunteer, Arun's interest and passion is in strengthening the credit union to better serve credit union members. Arun is a Professor of Management at St. Ambrose University. He received his Ph.D. in Business Administration from Washington State University. Arun joined the faculty at Ambrose in 1999 and teaches undergraduate, graduate, and doctoral students. Arun's scholarly research on organizational visioning and other topics is presented at many conferences and published in academic journals.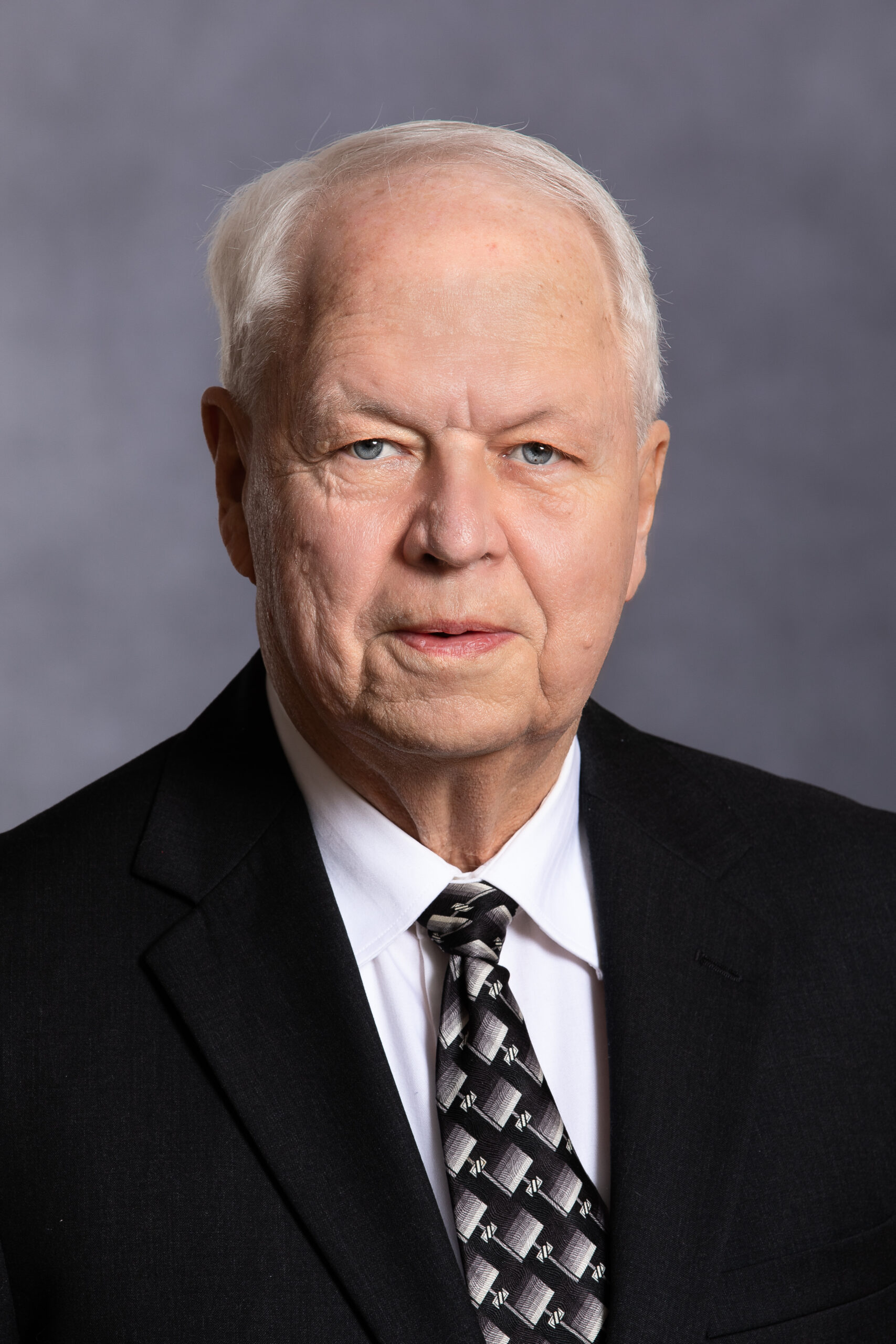 John Masengarb received his undergraduate degree from Augustana College with a major in accounting. He began his federal government career in April 1964 at the Rock Island Arsenal. During his 33- year career he held positions as an accountant, program analyst, logistics management specialist, and inventory management specialist. Because of John's efforts in the government and private sectors, he was inducted into the Ammunition and Army Ordinance Halls of Fame. John has been a member of R.I.A. FCU for over 50 years. He began volunteering as a member of the Business Development, Marketing, and Membership Committee nine years ago. John served as a member of the Supervisory Committee, as Associate Director of the Board and currently serves as the Chairman of the Board.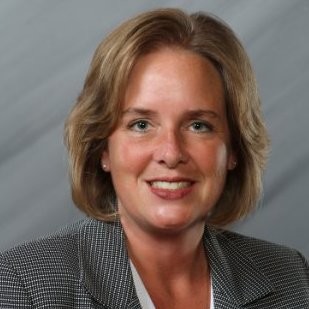 Laura Burkamper joined the Board of Directors in June 2022 and currently serves on the Supervisory Committee. She has been a member of R.I.A. FCU since 2012. As a volunteer, Laura is dedicated to remaining focused on delivering solutions to members supporting the guiding principles of relationships, integrity, and action. Laura is the owner of Burkamper Consulting LLC, founded in March of 2022. Prior to that she spent more than 30 years in business and technology leadership. She has an undergraduate
degree from the University of Iowa and a Master of Business Administration from St. Ambrose University
Any member who is interested in placing their name for nomination along with the incumbents must file biographical data and a petition signed by a minimum of 20 members to the Board Secretary, R.I.A. FCU, P.O. Box 4750, Rock Island, IL 61204. Nominations close on February 17th, 2023. Under this election procedure, there will be no nominations from the floor during our Annual Meeting on March 31, 2023. In the event that there are more nominees than those submitted by the nomination committee, the election will be conducted by ballot.
Anyone submitting his or her nomination for a Board seat should be willing to commit a number of volunteer hours on a monthly basis. Directors and committee members contribute time and expertise without pay because they feel the credit union is important to the economic well being of their families and fellow members. Among their many responsibilities, the Board of Directors sets policies, represents the credit union in various social and professional settings, assures the books and records are in proper order, assigns directors to study specific subjects, and appoints members to committees for assistance and review. Directors are also required to complete certain individual training courses, which will assist them in performing their responsibilities in a professional manner.
R.I.A. Federal Credit Union's 88th Annual Meeting will be held Friday, March 31st at the Hotel Blackhawk in Davenport, Iowa. The business meeting will convene at 6:30 p.m. with a buffet dinner to follow. Members and guests must make reservations and pay $5.00 each in advance for the dinner. Tickets must be presented to participate and dine. Tickets are non-refundable and may be purchased at any of our locations. Members who mail in the form included in the newsletter with payment will receive their tickets in the mail. Reservations and payment must be received by R.I.A. FCU no later than March 15th.
Festival of Trees and Fort McCoy Tree Lighting
We've been in the holiday spirit this year and have enjoyed participating in our community events. At this year's Festival of Trees parade, we were honored with carrying the Santa Claus balloon. It was a very cold, windy day, but with some hot chocolate and hand warmers it was a great time ringing in the holidays. Our R.I. Arsenal location team also participated in the Arsenal Tree Lighting. Our Wisconsin crew has been busy as well with the Tomah Holiday parade and the Tree Lighting ceremony on Fort McCoy. Some of our Quad Cities team joined them for an evening of crafts and laughs.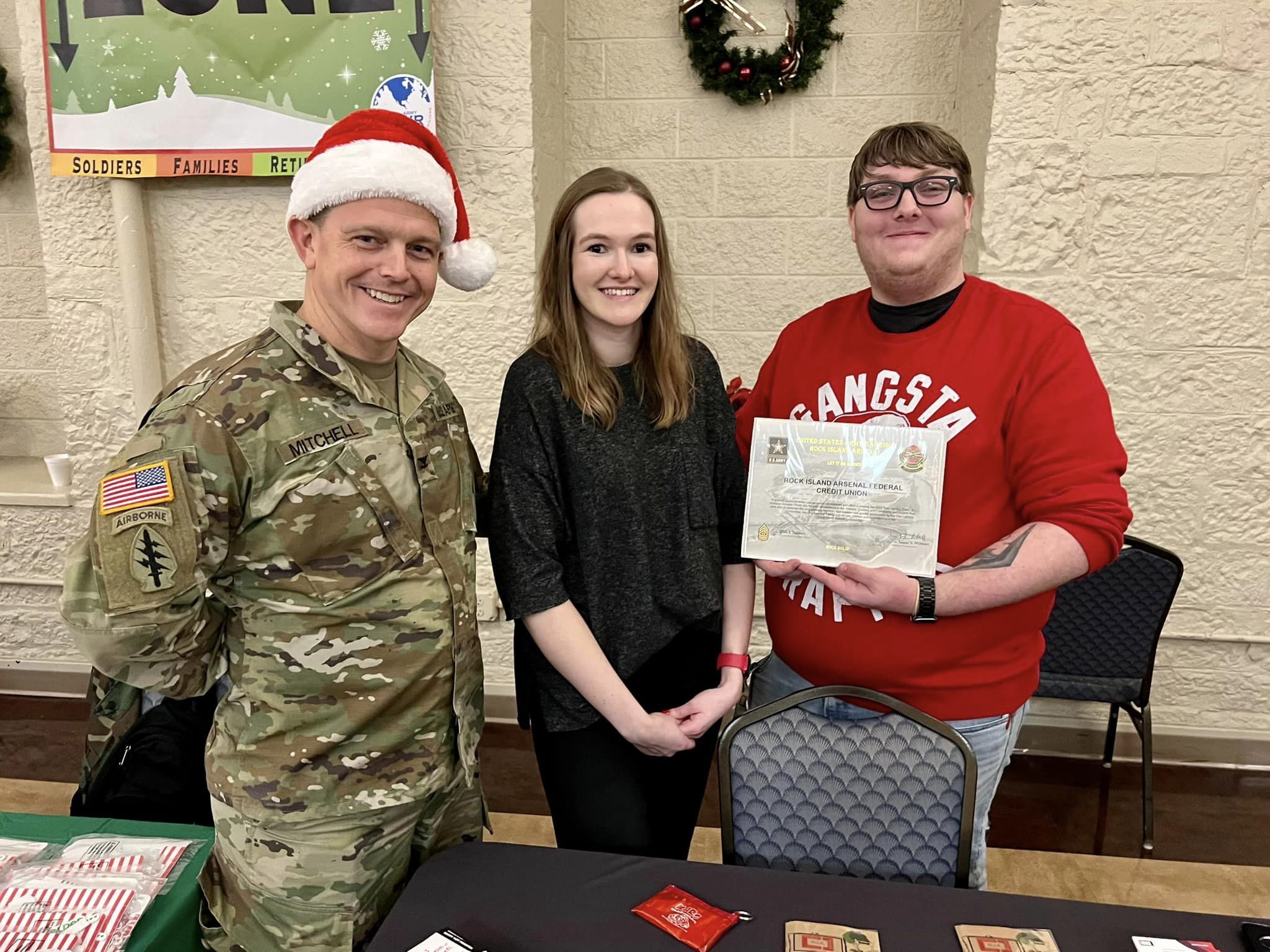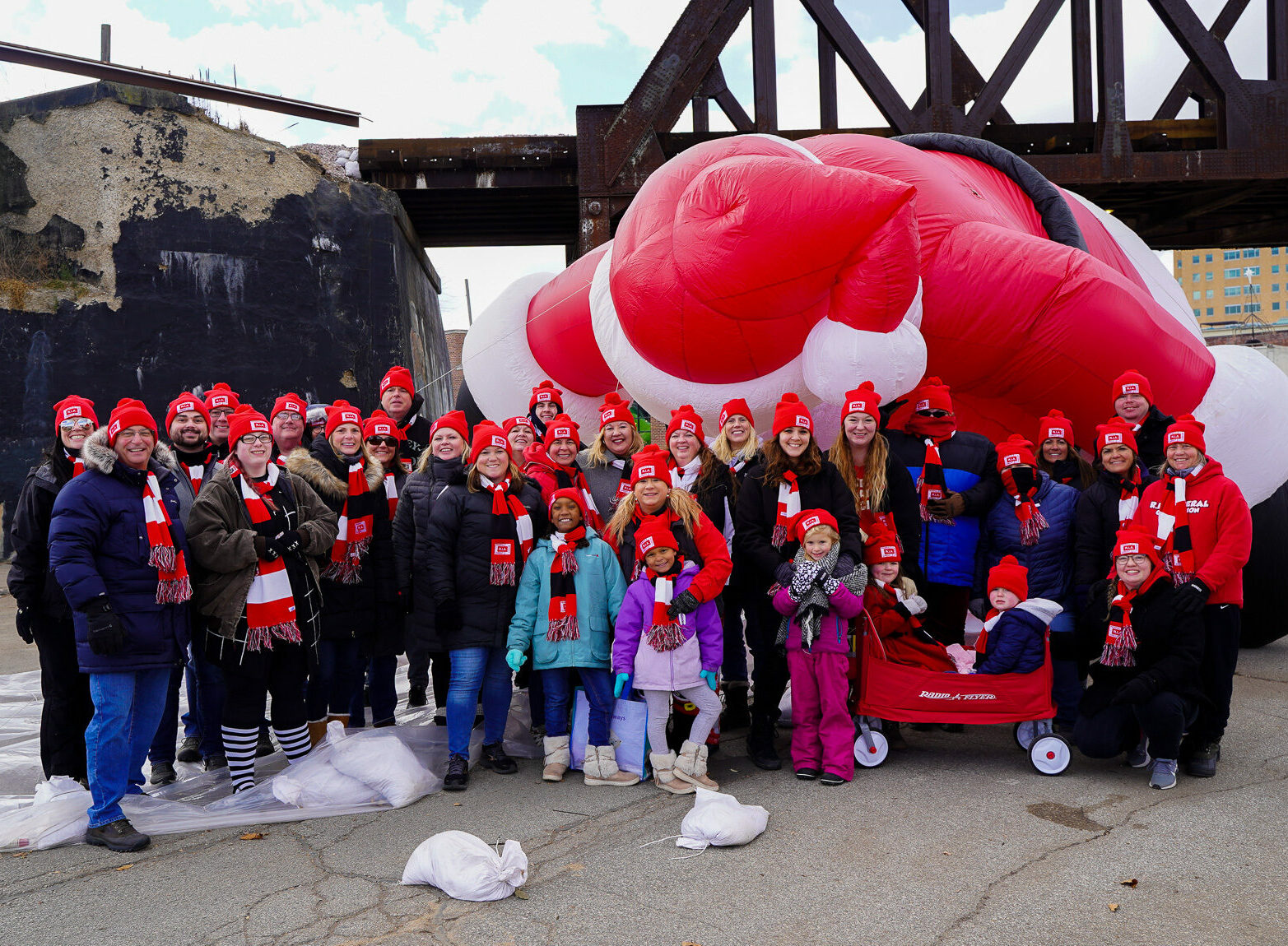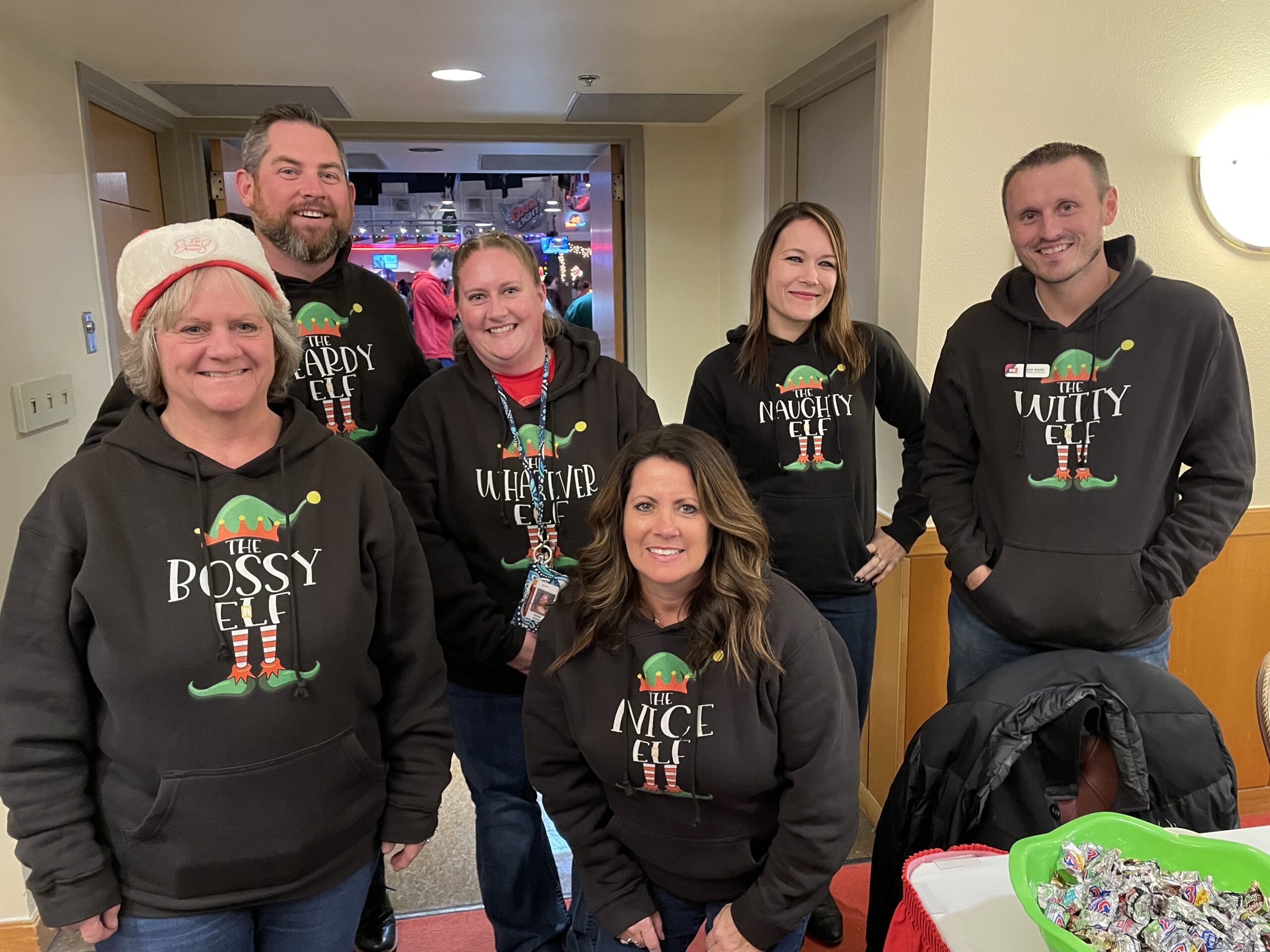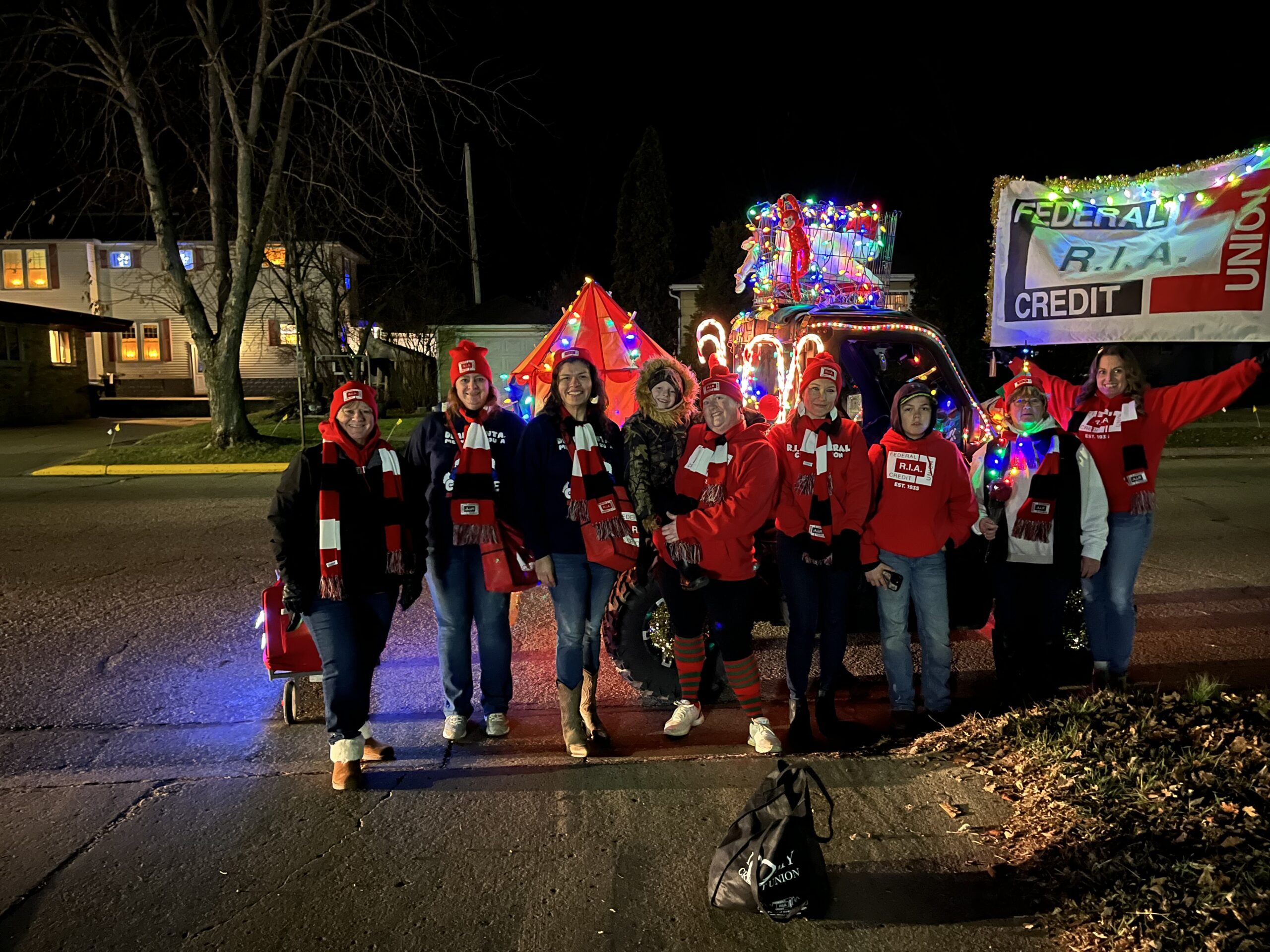 Toys for Tots and United Way
With the help of our generous communities, we collected an impressive number of toys for this year's Toys for Tots fundraiser! Also in the spirit of giving, we hosted our annual United Way campaign, and raised an incredible amount of money for our communities! We are grateful for our communities and are honored to give back where we can.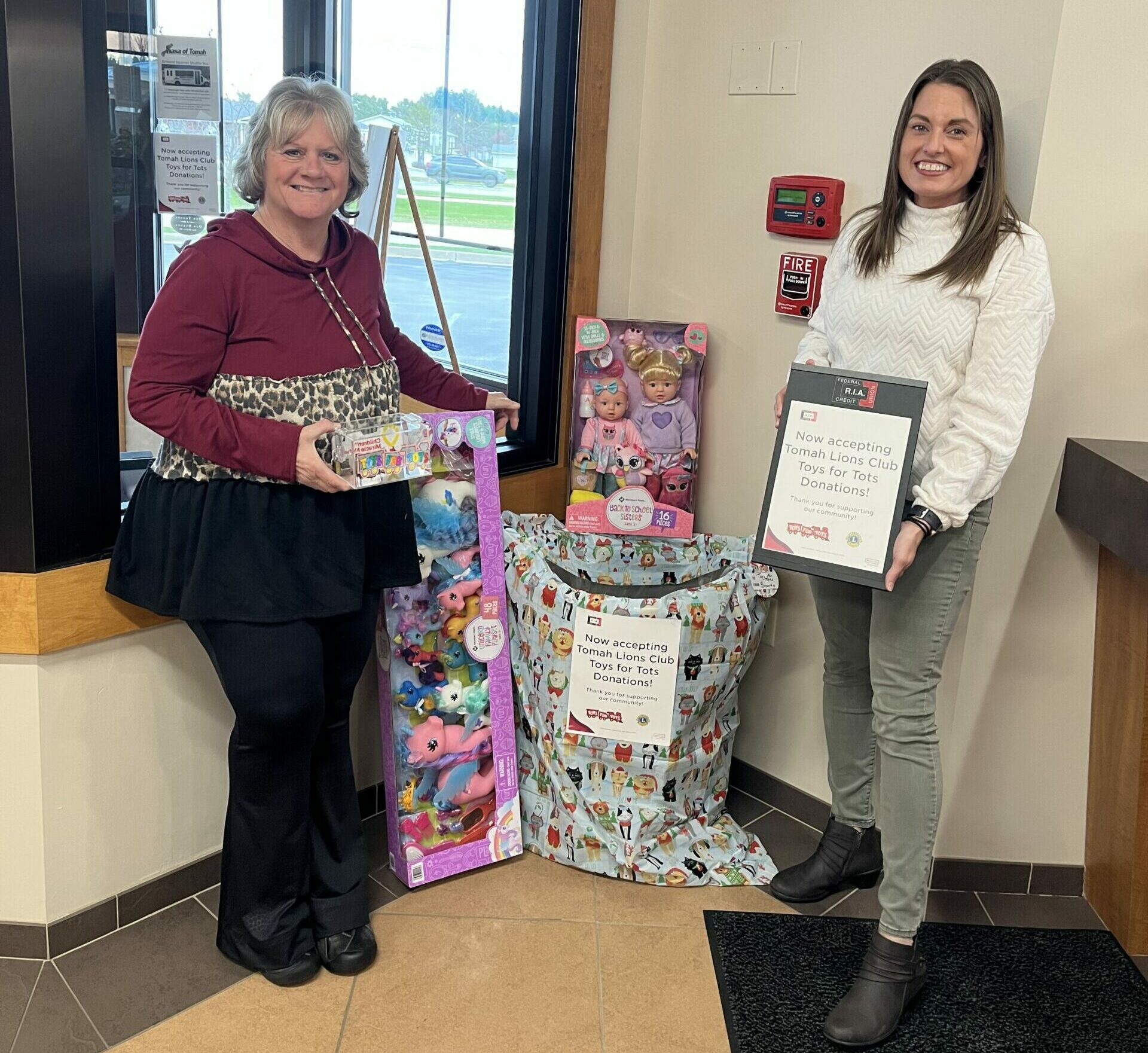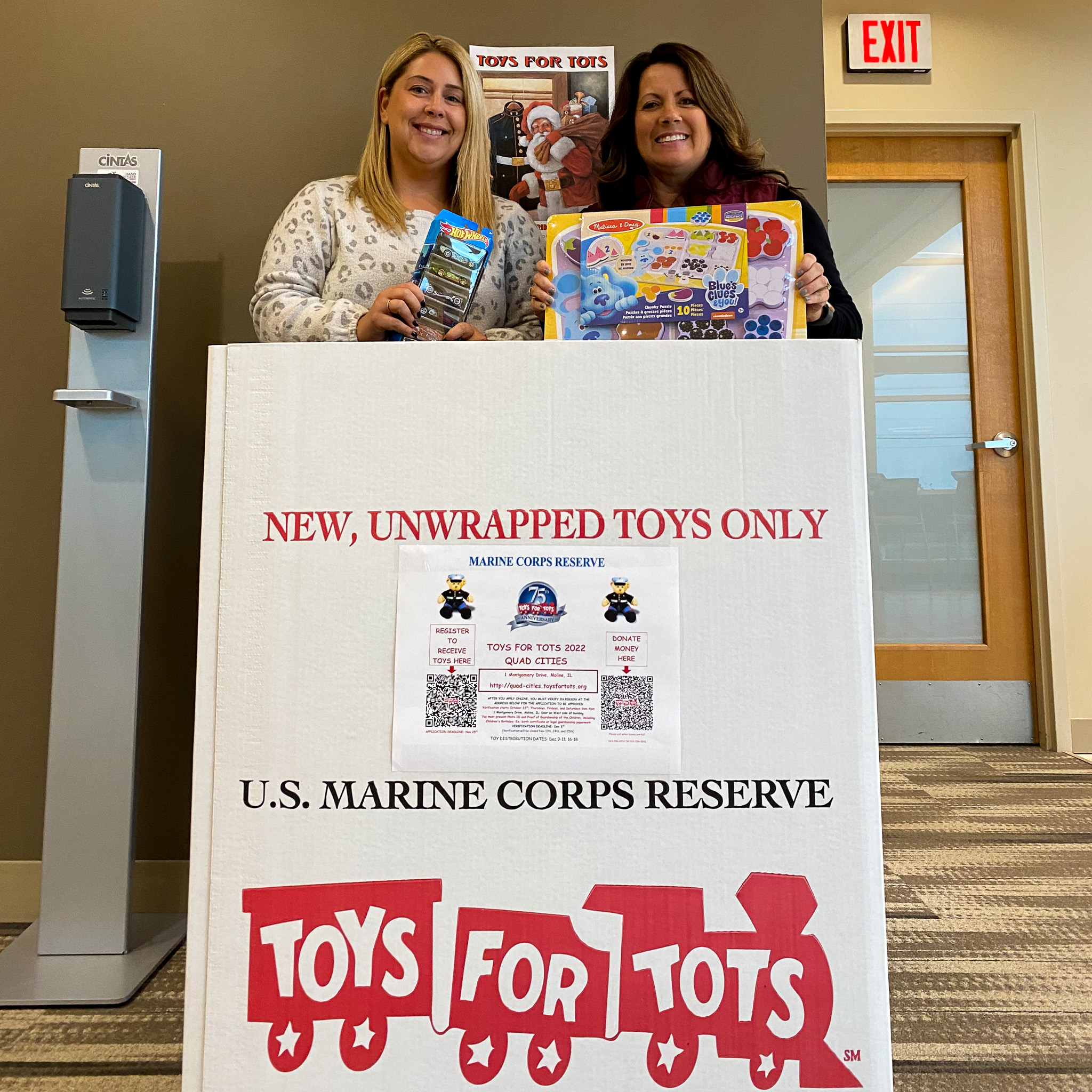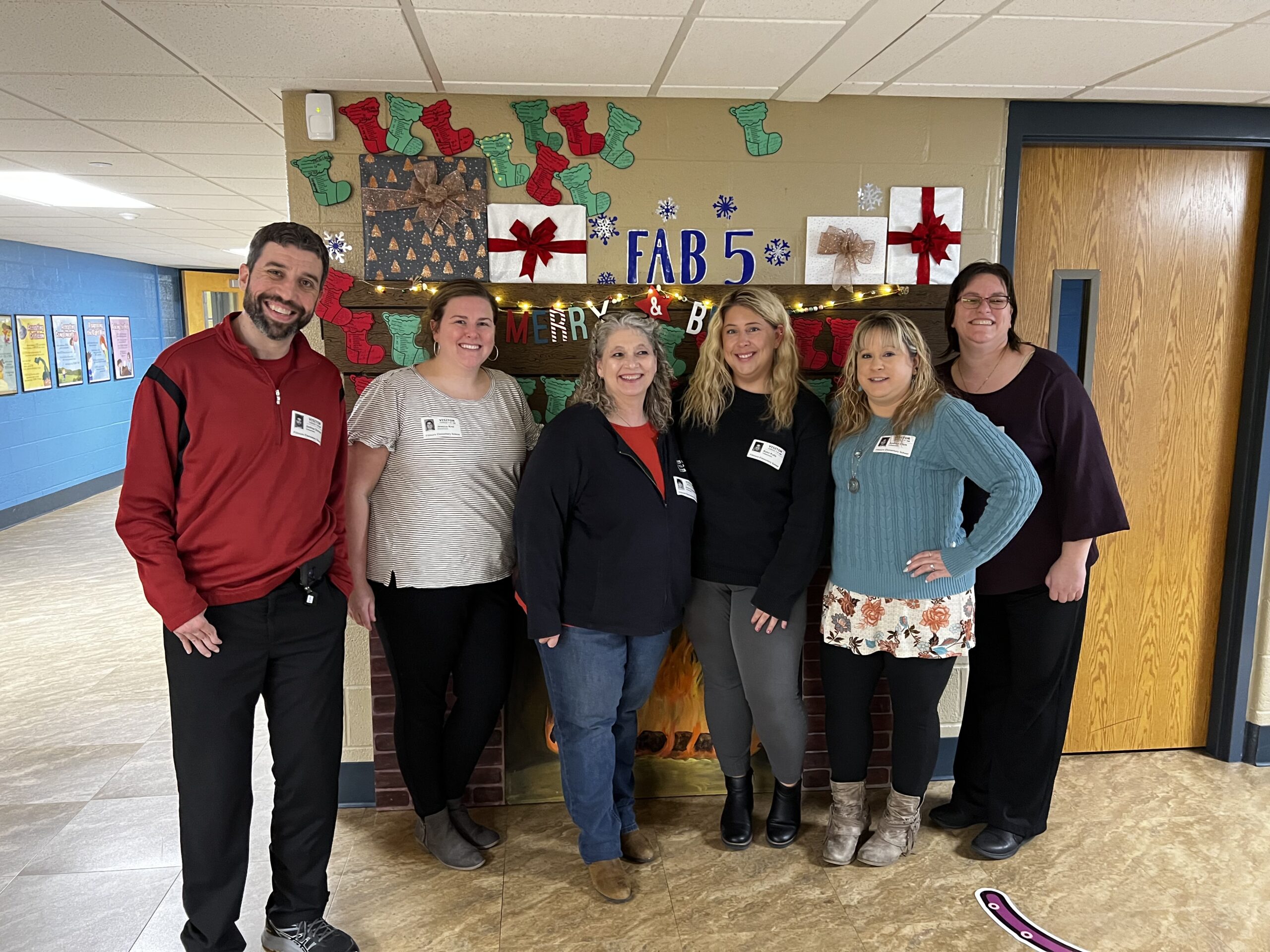 Six of our team members volunteered for Junior Achievement's JA in a Day again this year, teaching third graders about the choices they have with money. The day was spent engaging with kids and sharing knowledge about finance. As always, this experience is incredibly rewarding, and we are honored to be a part of it. We applaud Junior Achievement for their countless efforts in enriching the minds of future generations.
Brad, Morgan, and Steve from our Utica location joined a recent Honor Flight as guides. The two of them traveled with the Honor Flight of the Quad Cities to Washington D.C. and accompanied the deserving veterans to view the memorials dedicated to honoring their sacrifices. Kelly and Shelley even woke up before the sun to send the flight off at the airport. Thank you, veterans!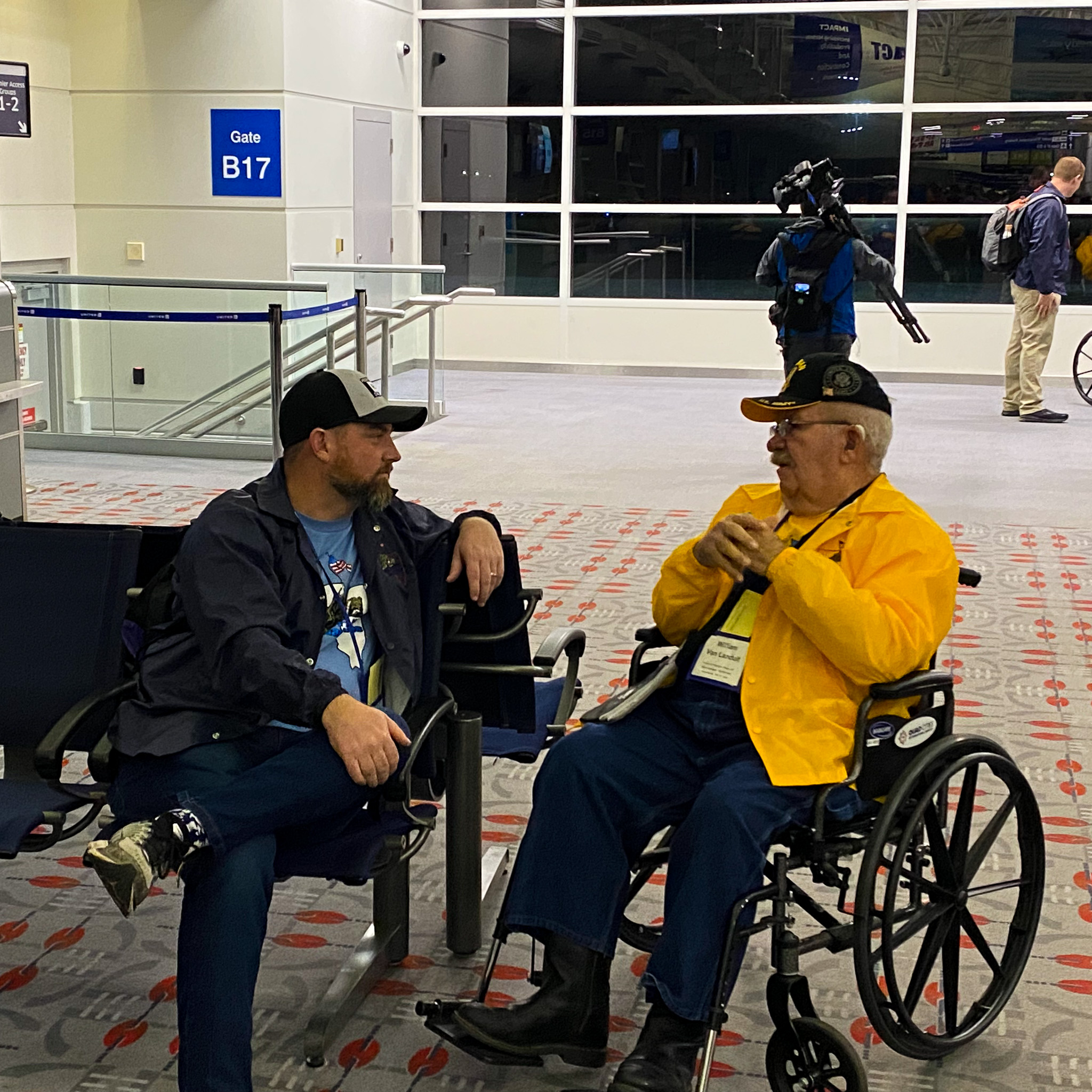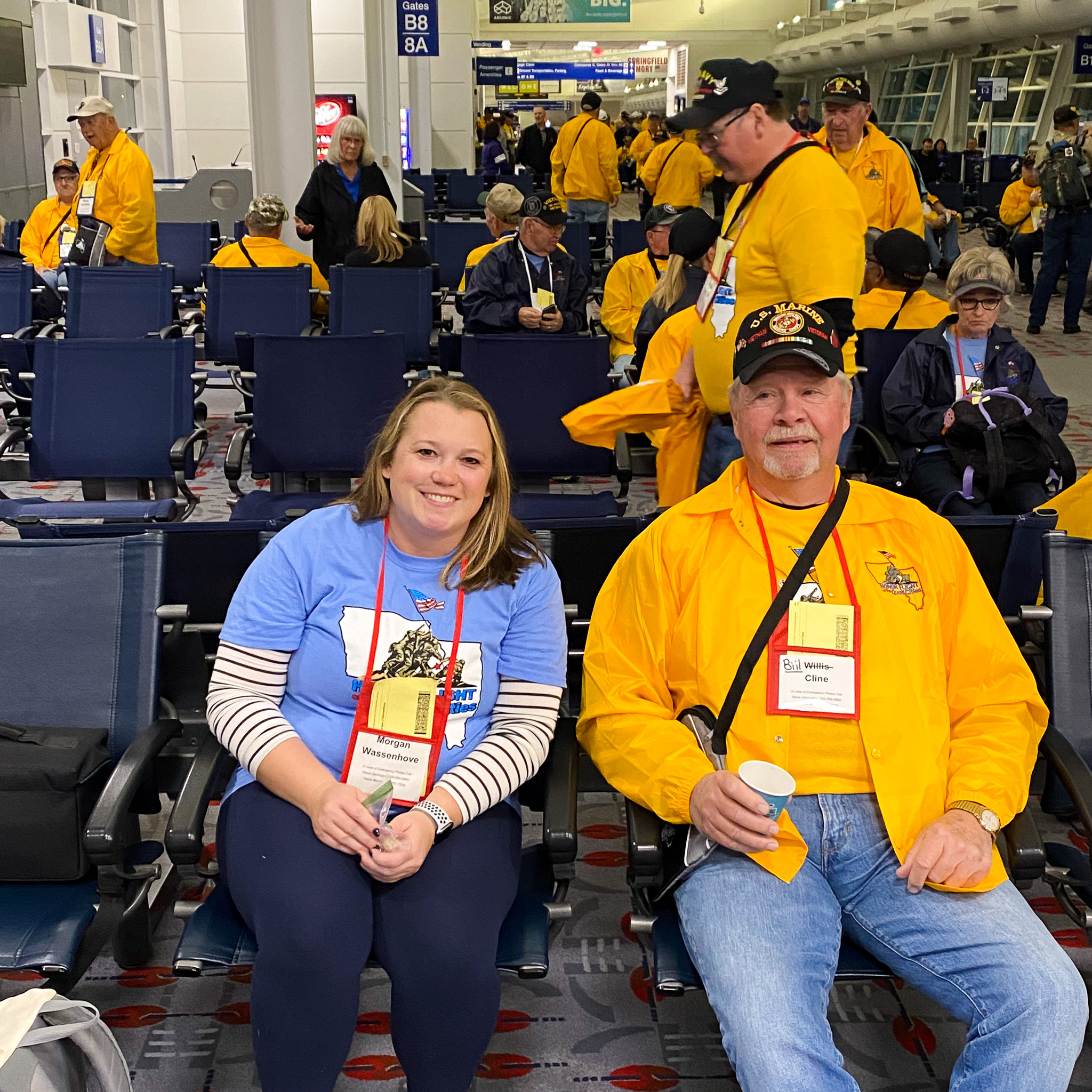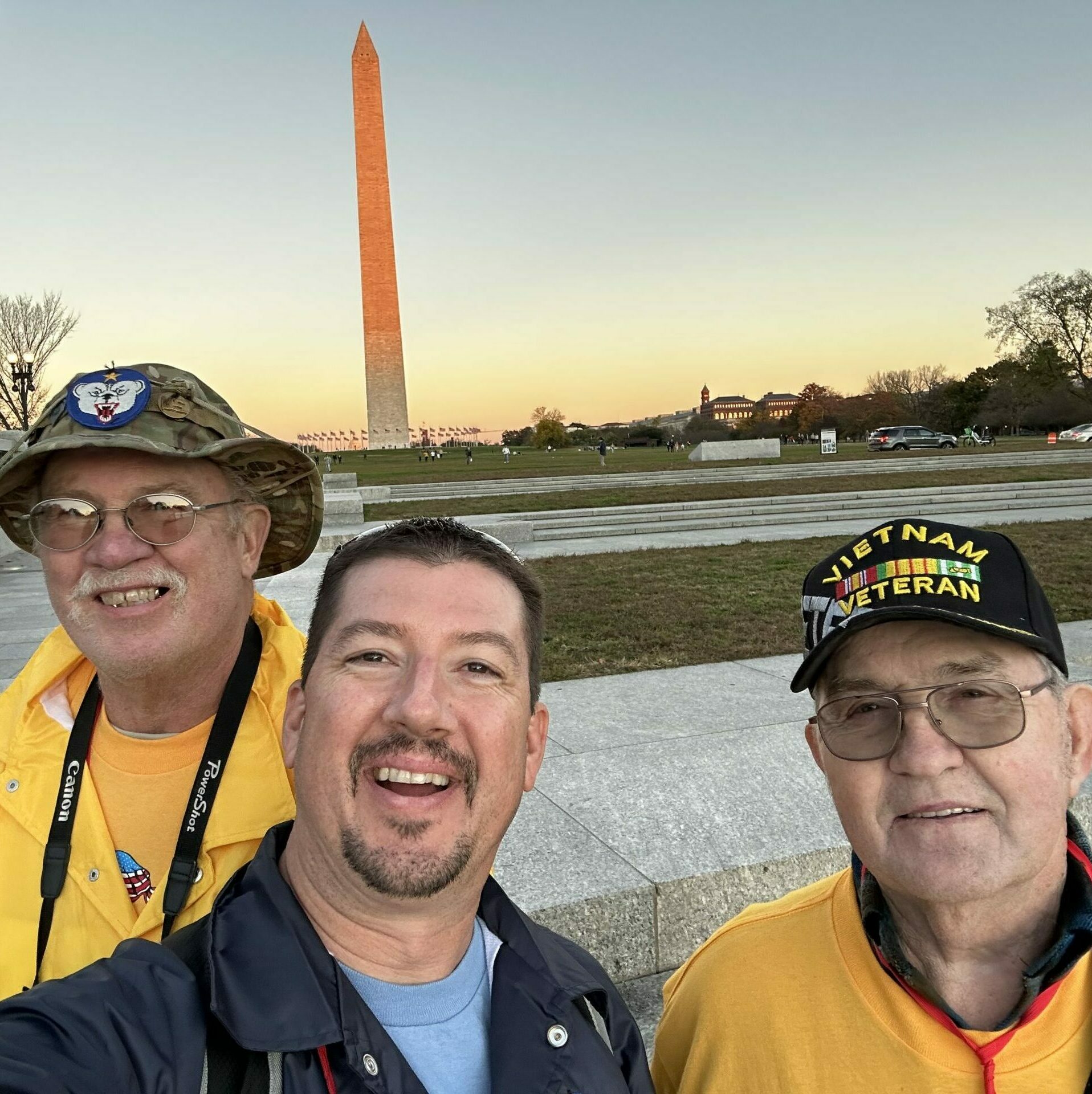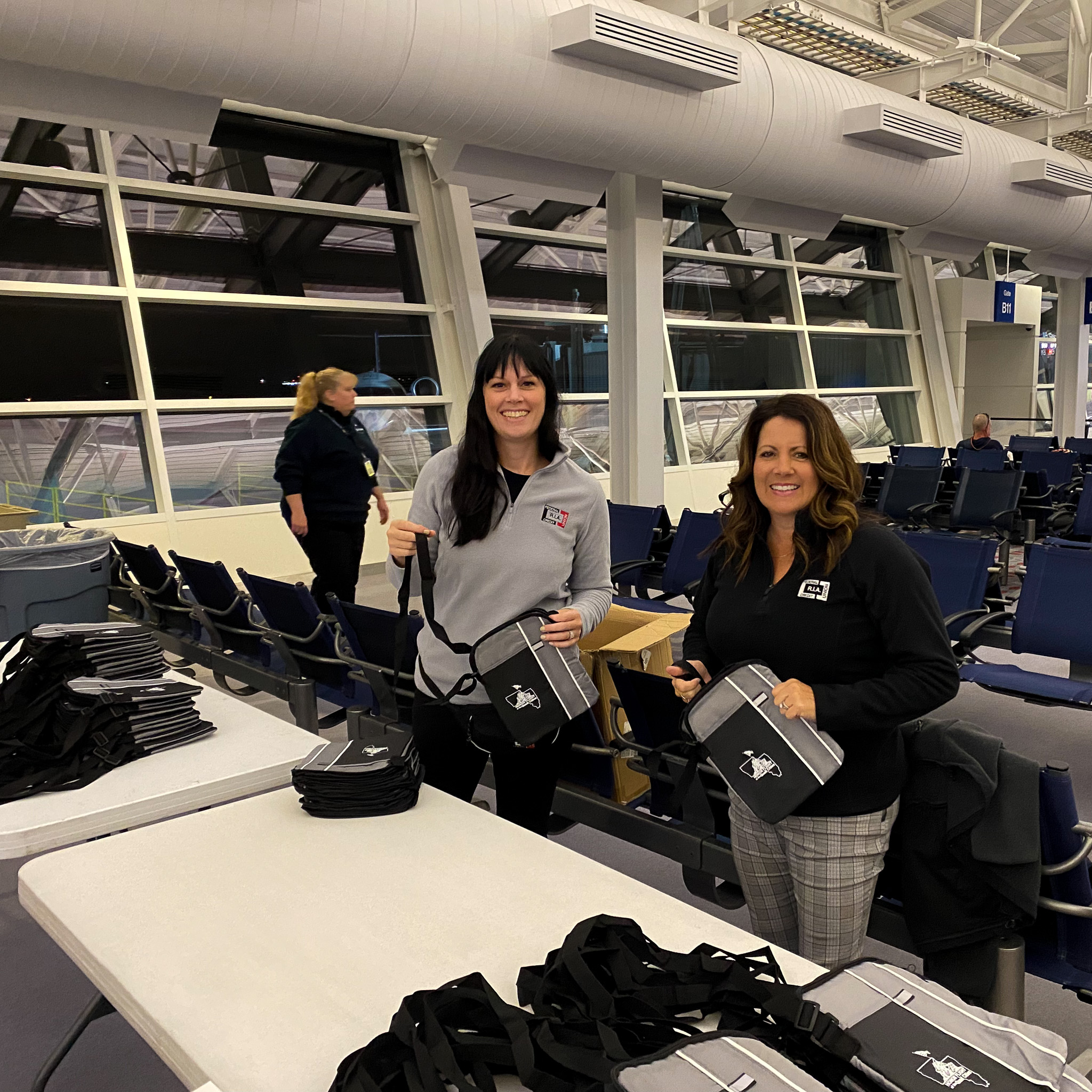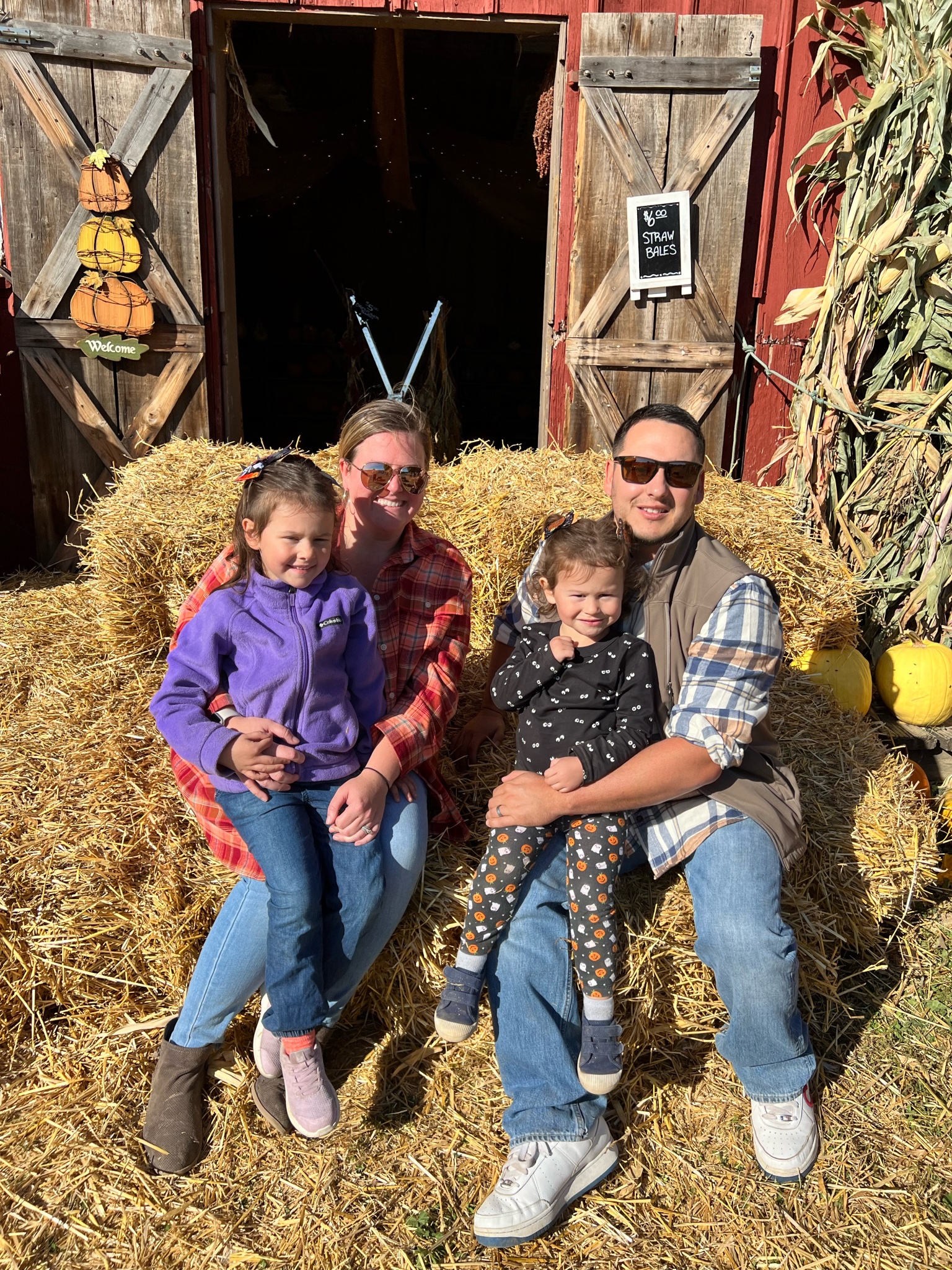 Together with all our staff, we joined forces to support two local fall activities: Shady Knoll Farm and Stone's Apple Barn. One weekend, we provided our staff with vouchers to attend both locations and support our small-town communities. There were apples consumed, pumpkins picked and lots of littles lost in a corn maze.
Lunch for Heroes – East Moline Police
In an effort to give back to our local heroes, we've been making our way around. This time we dropped in on the East Moline Police Department for our Lunch for Heroes. We appreciate everything they give to our community and the sacrifices they make every day to bring us safety. Thank you to all!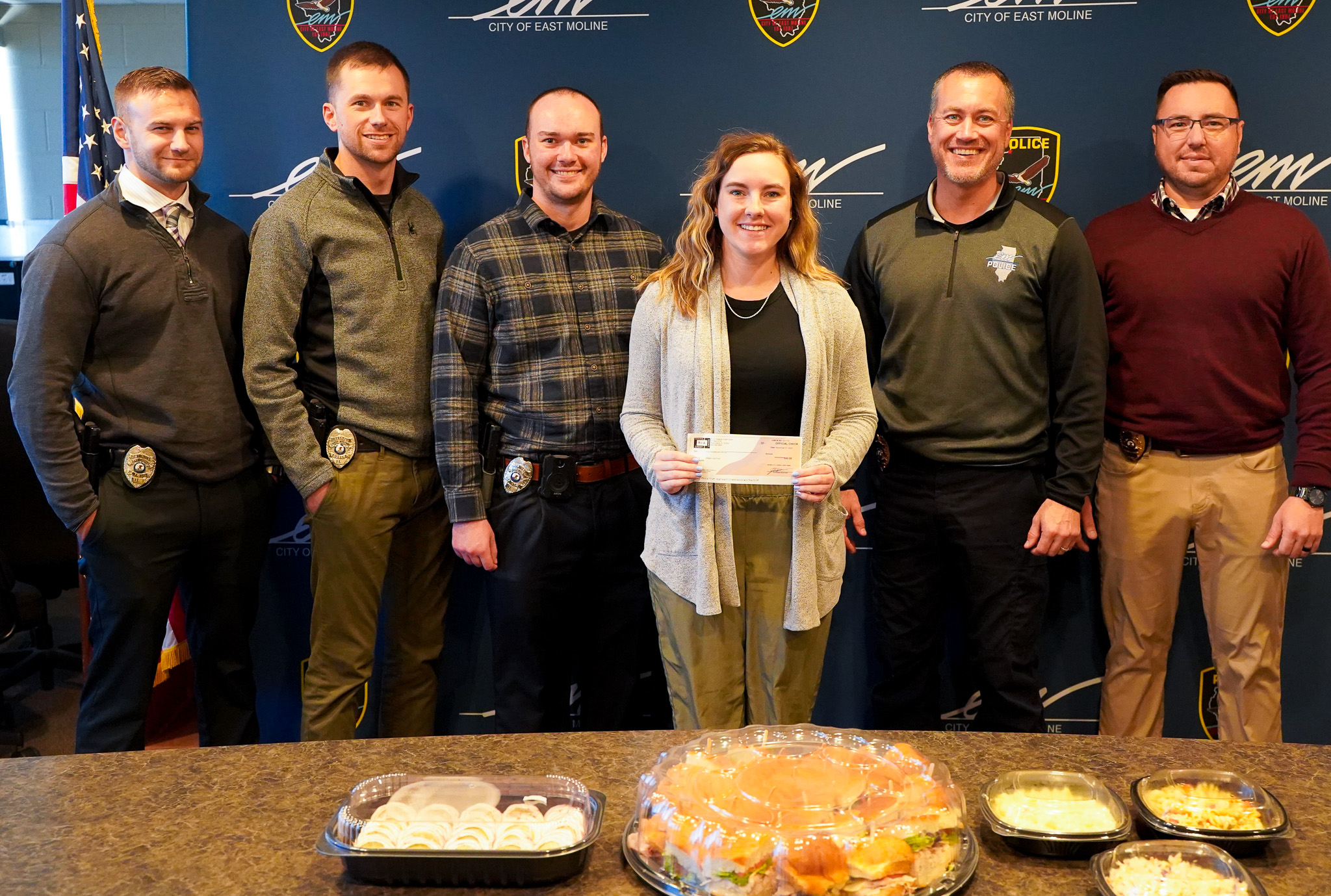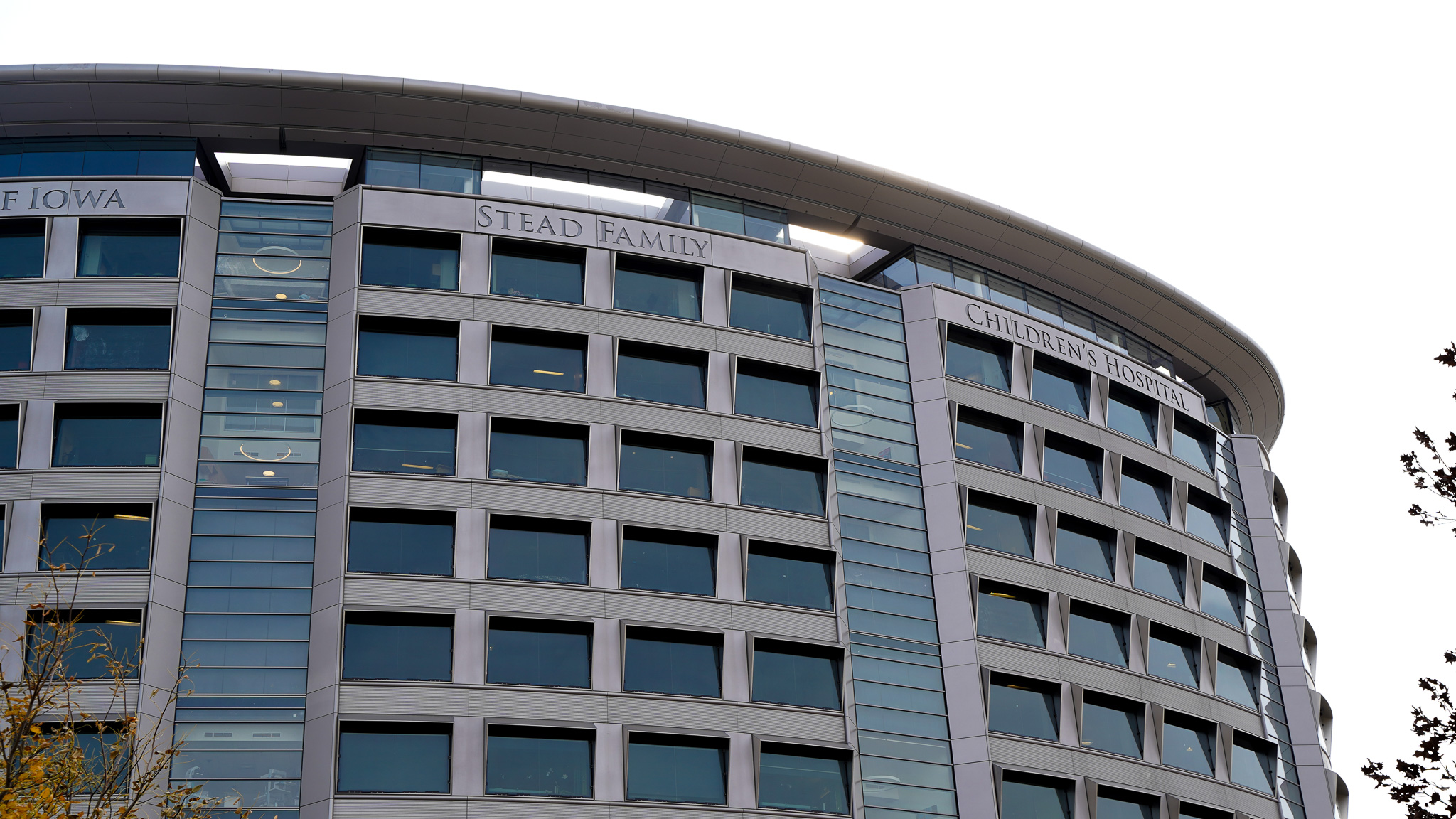 Together with local credit unions, we raised funds for the Children's Miracle Network in Iowa City. Earlier this year, we held our Credit Unions for Kids Golf Outing. We were fortunate enough to make the drive up to present the foundation with a check and even get a tour! If you're ever looking for a great organization to support, this is a great one!
International Credit Union Day
In honor of International Credit Union Day, we hosted a free cookout at our Utica Ridge location. We enjoyed lunch and plenty of mingling with all who joined us.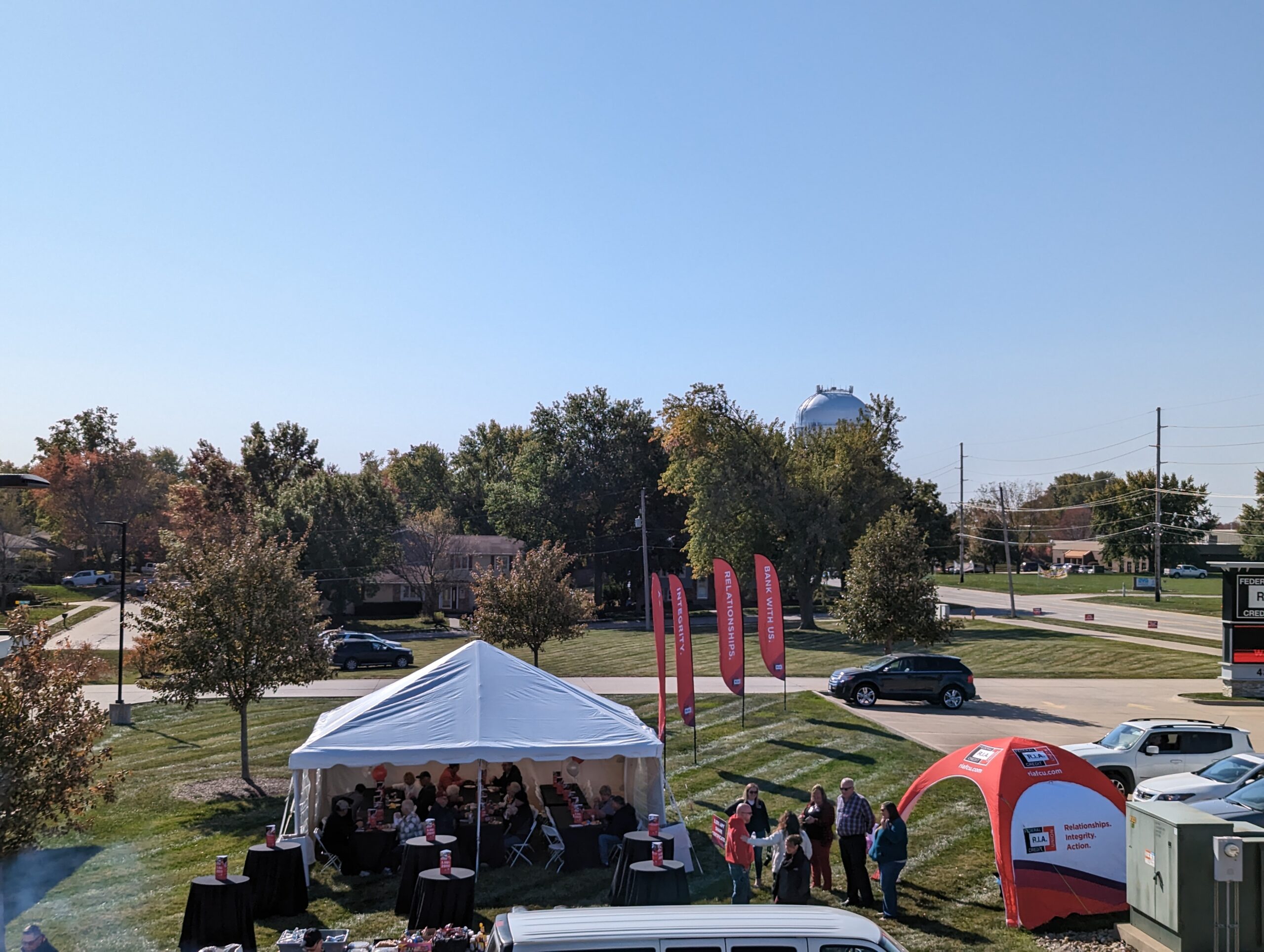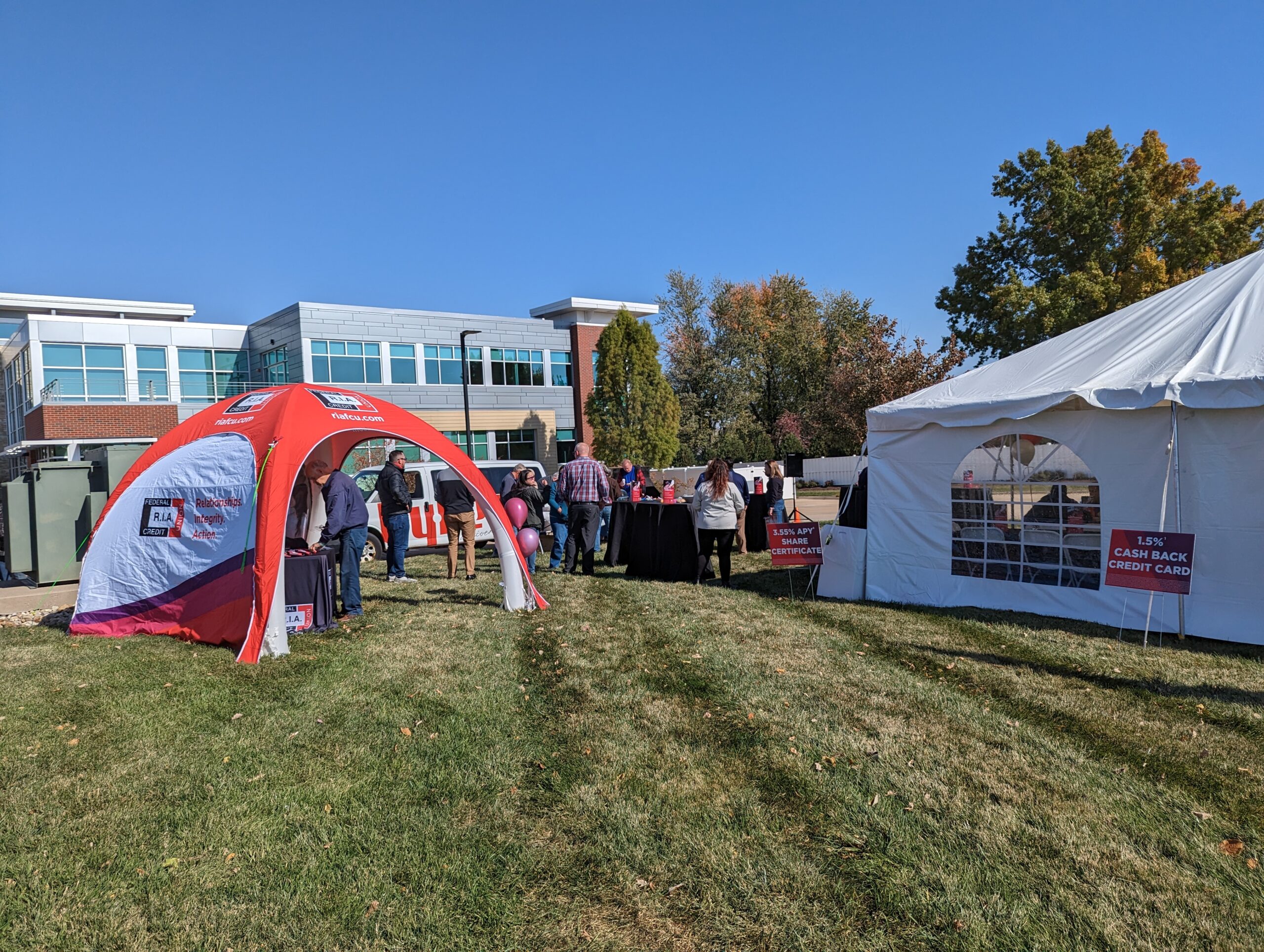 We got plenty of boos in this year at Halloween events throughout our communities. We passed
out candy to kids at Boo at the Zoo, Boo on the Rock at the Arsenal and the Milan Trunk or Treat. We couldn't help but have a group costume contest in the office, either.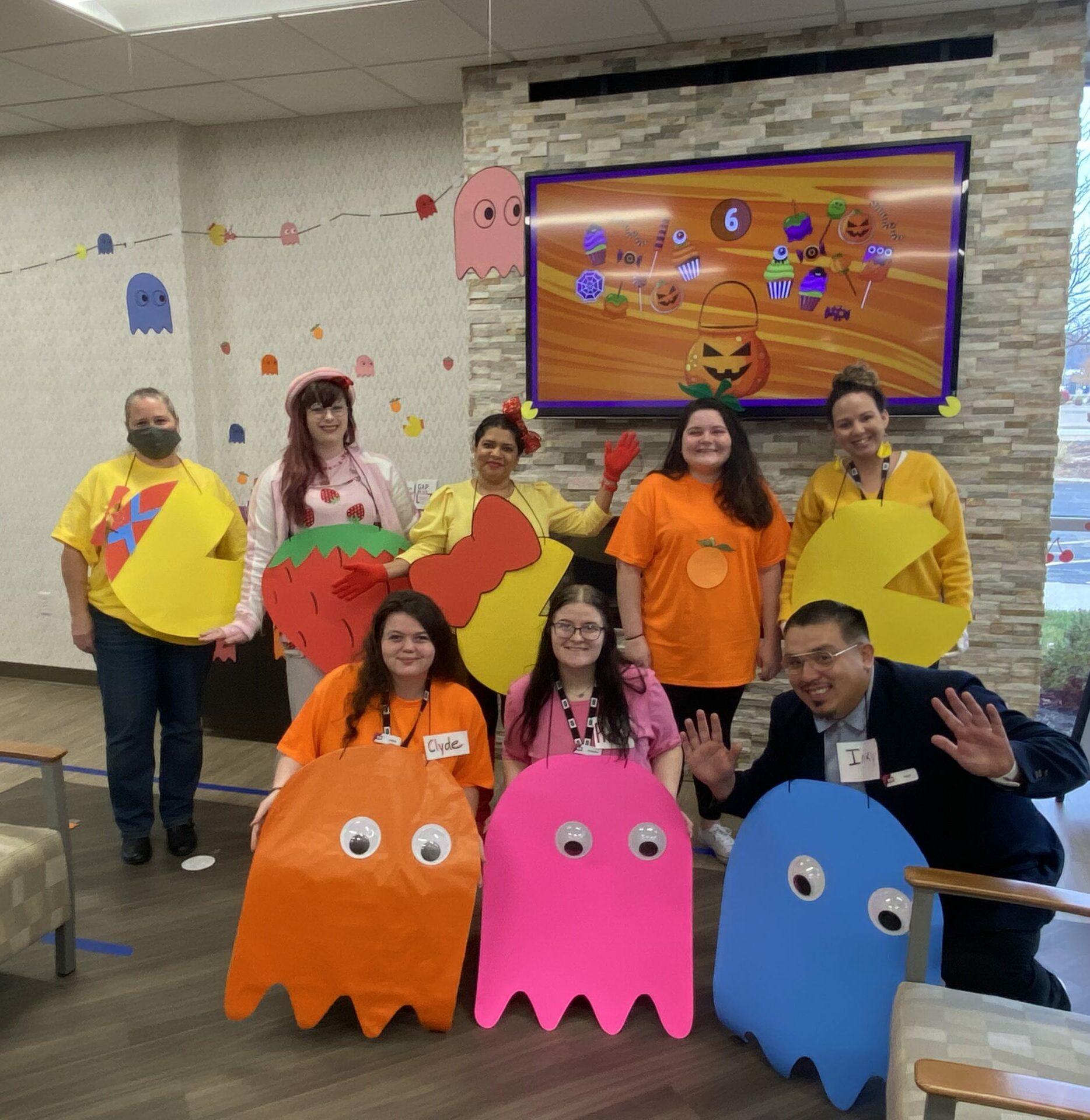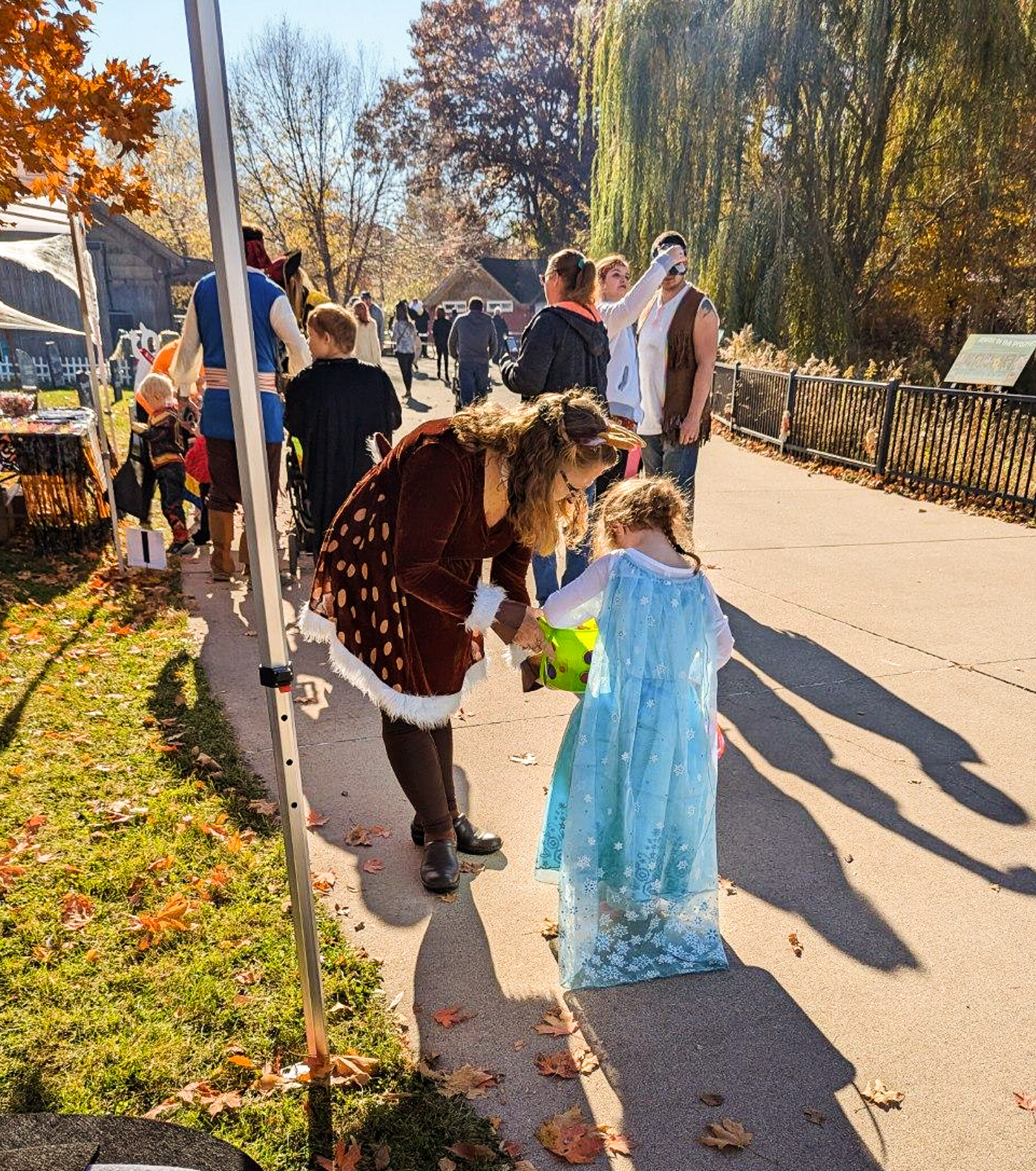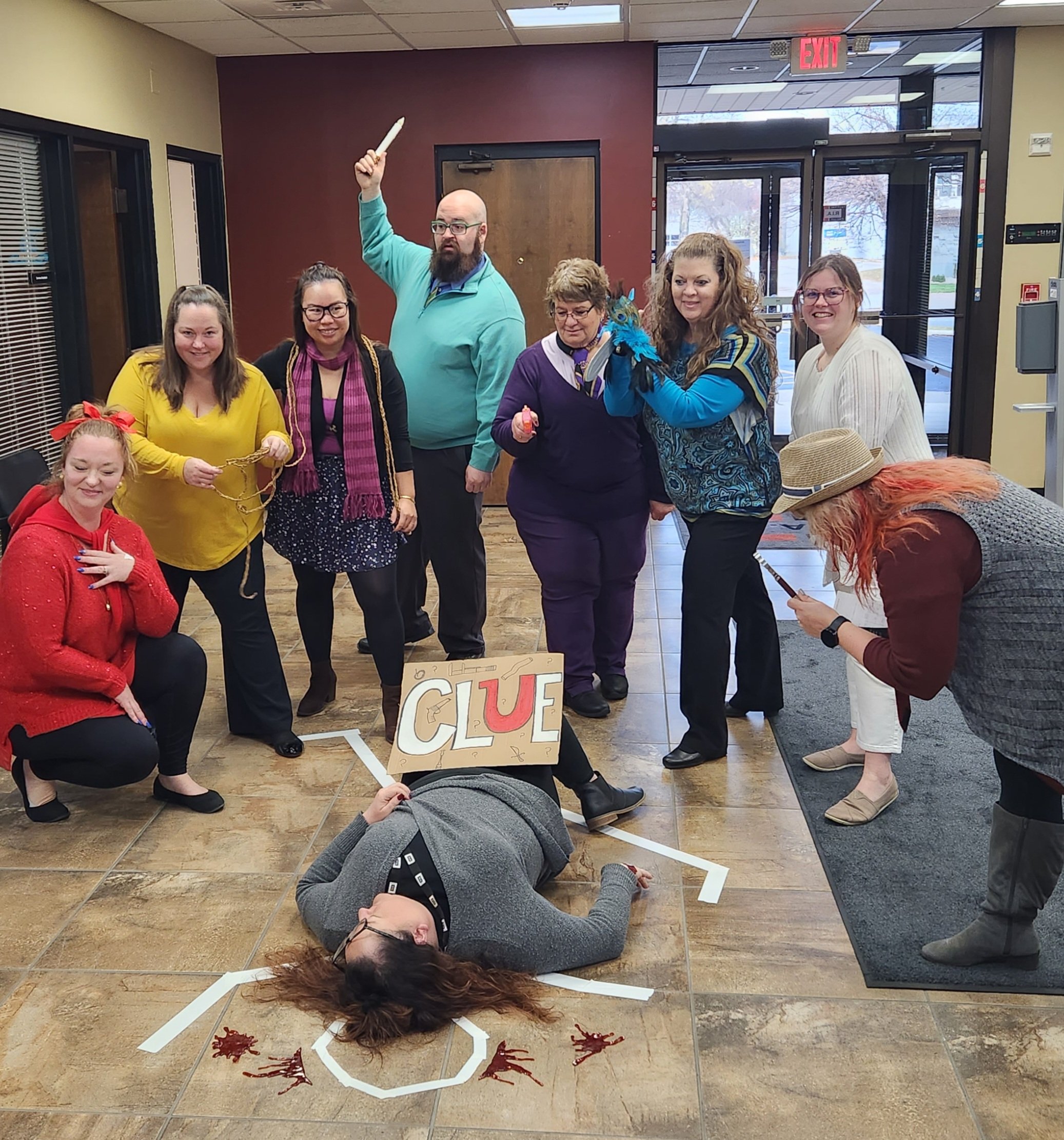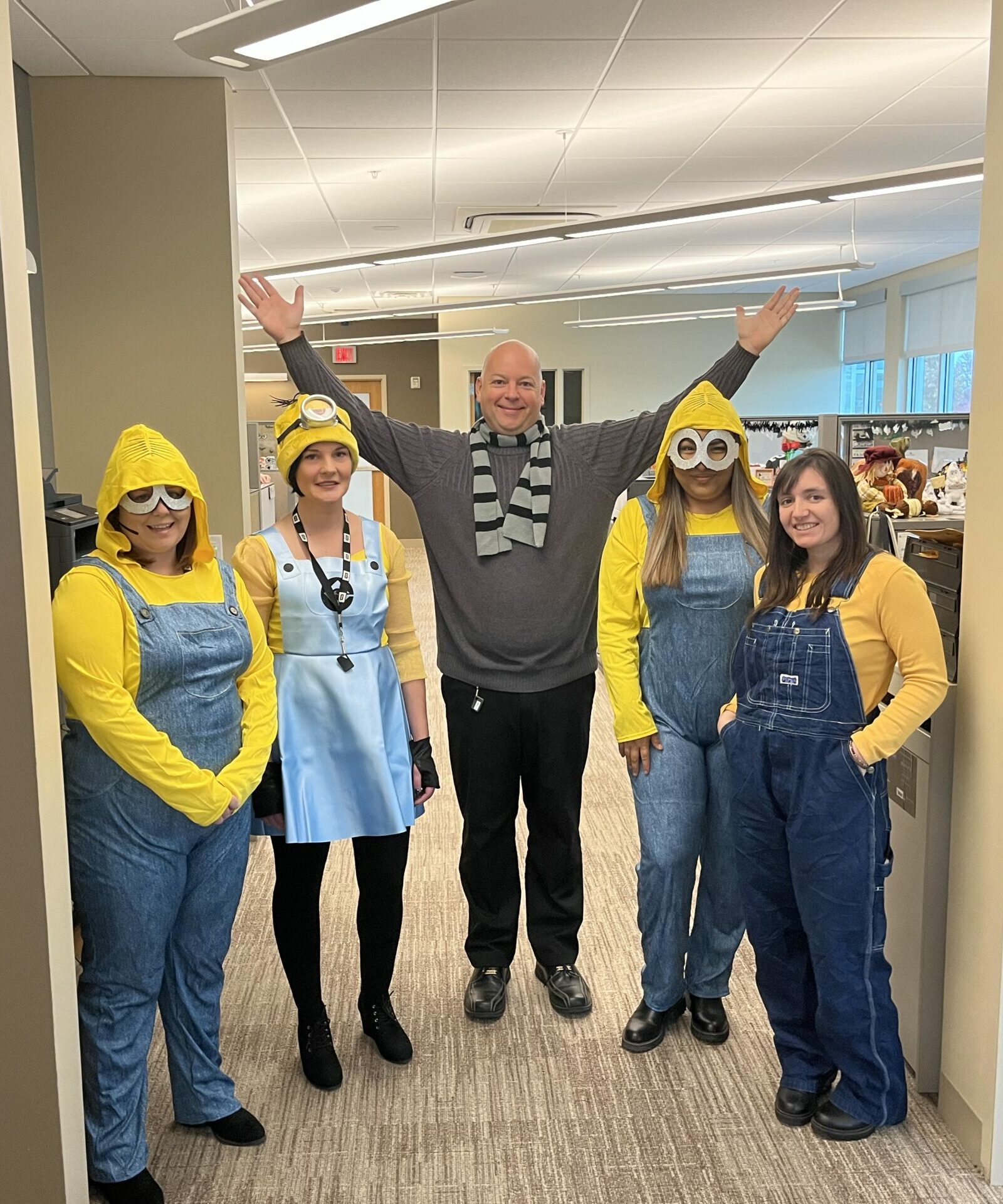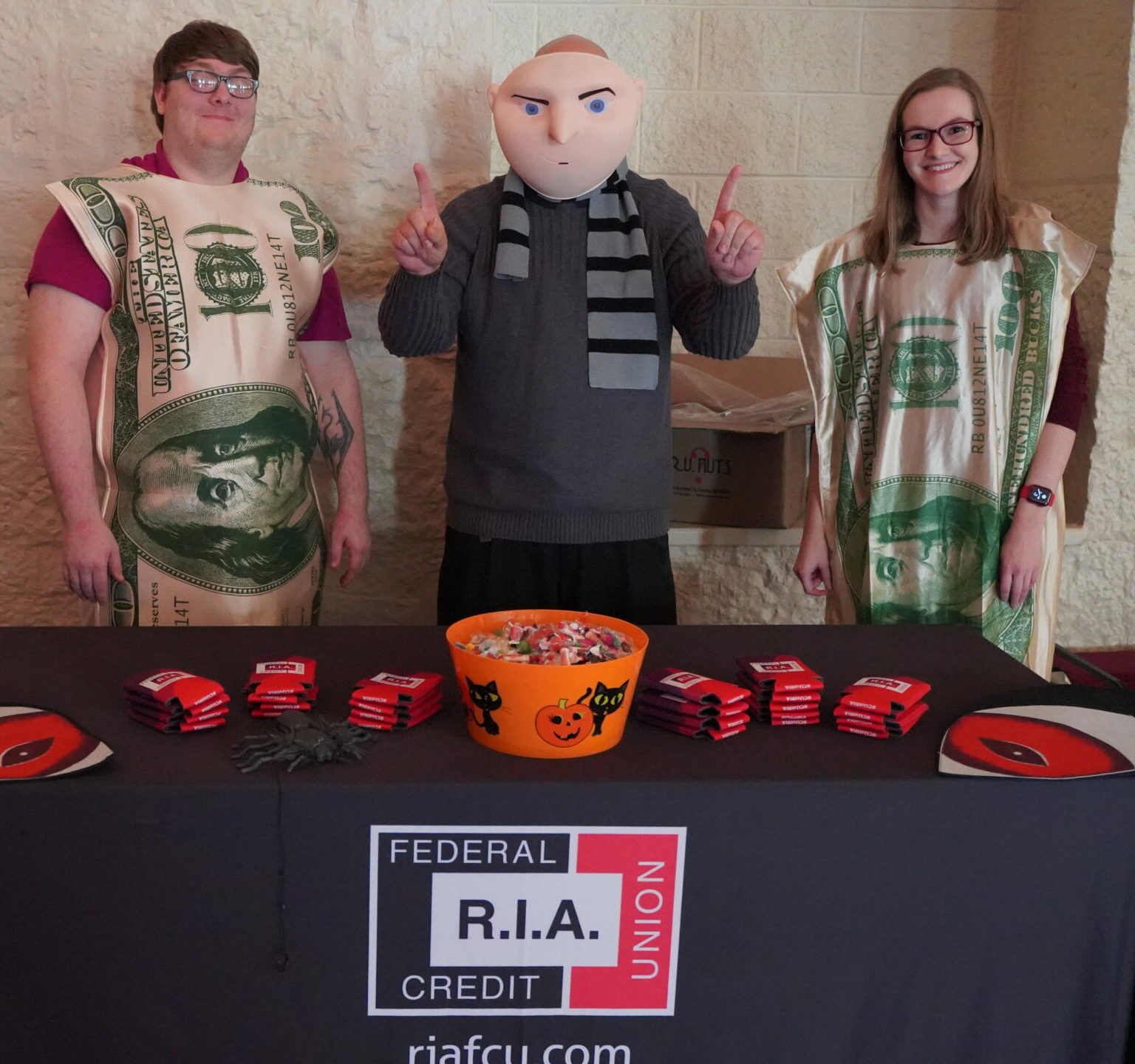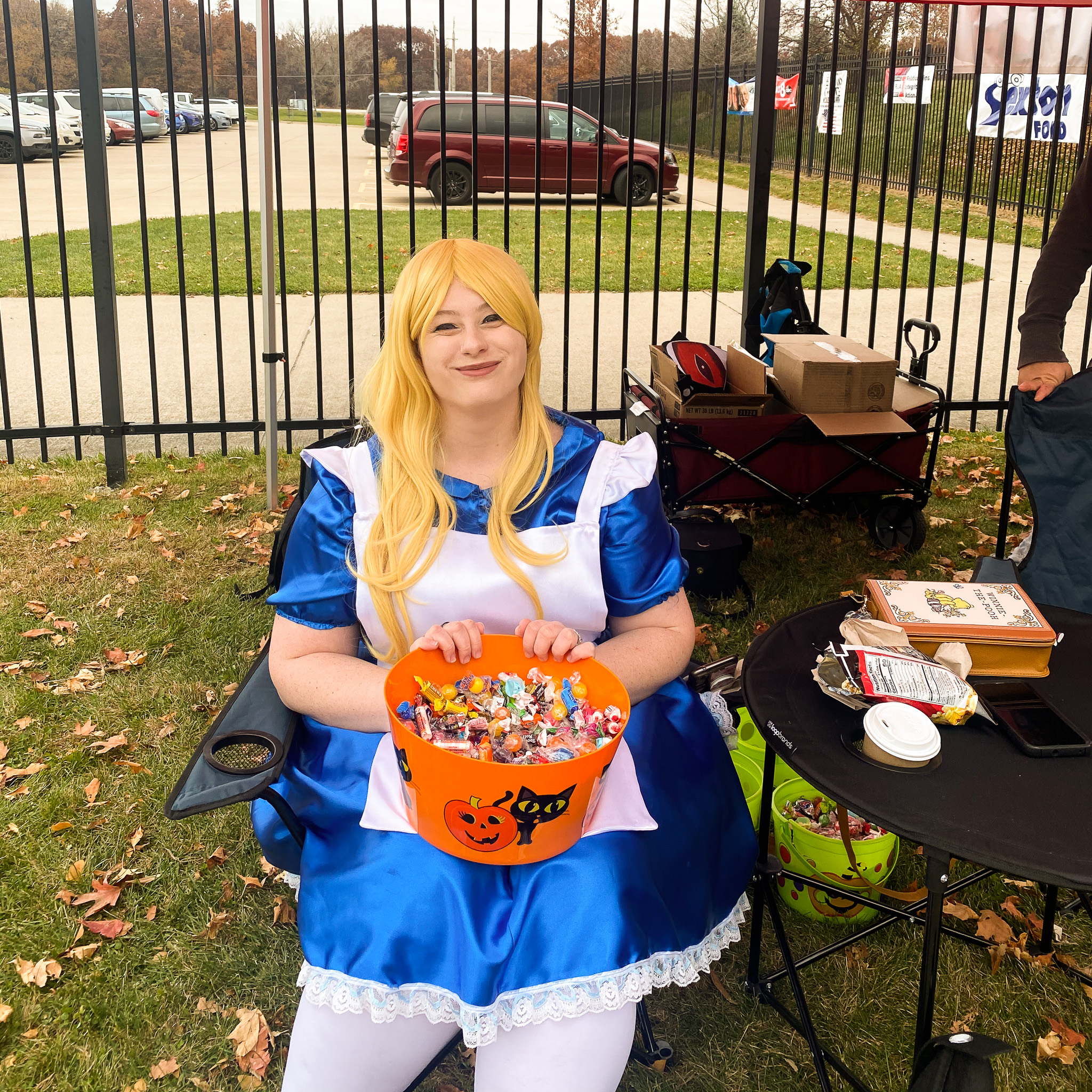 Planning A Home Purchase?
Considering a home purchase? Our mortgage team will be hosting a Homebuying Seminar on March 1st! The event will be held at Crawford Brew Works from 5:30 – 6:30 p.m. Our experts will discuss important information on things you should know when you buy a home. Pizza and soda will be provided.
Martin Luther King Jr. Day
Monday, January 16
President's Day
Monday, February 20
Remember, you can still access your credit union account on holidays and after hours with your R.I.A. FCU ATM/Debit Card, Mobile Banking, DANA or Internet Account Access. Sign up today!
Disclaimer
*Any member of R.I.A. FCU with an account in good standing (no delinquent or charge-off loans) and who is a U.S. citizen may apply. An individual may join R.I.A. FCU for the sole purpose of eligibility. Scholarships will be awarded on an objective and non-discriminatory basis, without regard to age, sex, race, religion or affiliation, and will be paid to the accredited school of choice.
Eligible members must be a graduating high school senior or a current college student enrolling in an accredited two-year or four-year college, university or vocational-technical school. Applicants may reapply each year during graduate school, however the scholarship will not be awarded more than twice to the same individual.
Requirements to be considered for the R.I.A. FCU Scholarship include: a completed application, high school/college transcripts (may be sent separately), letters of recommendation (may be sent separately), and an essay which includes future plans and goals, and how academic and extracurricular activities will help the applicant achieve these goals.
All applicants will be judged by the Scholarship Committee, which consists of R.I.A. Federal Credit Union management and staff. Judging will be based on need, merit and overall achievements in academic and extracurricular activities. Only completed applications will be considered. The application and all requested information must be postmarked no later than March 19, 2022 and either e-mails to riafcu@riafcu.com or mailed to:
Scholarship Committee
R.I.A. Federal Credit Union
P.O. Box 4750
Rock Island, IL 61204-4750